Kirsten Bodley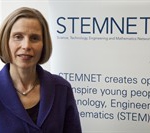 Chief Executive, STEMNET
Kirsten Bodley is the Chief Executive of STEMNET, a UK-wide organisation that works with thousands of businesses and schools to promote all aspects of Science, Technology, Engineering and Mathematics to young people.
Kirsten has been with STEMNET for over 5 years, initially as Regional Director for London before becoming Director of Networks in August 2008. Previously, Kirsten had worked as a research scientist for many years, before moving on to management consultancy and subsequently becoming a qualified teacher.
Kirsten has completed degrees in science, education and business, and is a member of the Society of Chemical Industry.