Russell Hobby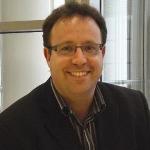 General Secretary, NAHT
Russell Hobby was born and raised in Abingdon, Oxfordshire, attending St Nicholas CE Primary (where his mother taught for twenty-three years) and John Mason Secondary School in the town. He gained a place at Corpus Christi College, Oxford, to study philosophy, politics and economics, graduating with a first class degree in 1993. He also played a lot of rugby at school and college.
After college, Russell worked with two IT start ups – one specialising in the translation of old programming languages into modern code and the other, anti-virus software.
In 1998, he joined the management consultancy Hay Group, remaining with the firm for over eleven years. Progressing to associate director in the London office, he consulted on leadership, culture change and organisation design for clients in sectors such as power generation, retail, telecoms and government; winning three national awards within the industry. He has also held management responsibility in Hay Group for marketing, research and knowledge management, and acted as the company's spokesman.
Within a year of joining the firm, Russell was working on education projects, including research into teacher effectiveness for the then DfES. This was the start of his strong association with issues of leadership and management in schools. In 2000, he helped to set up Transforming Learning – a 'dot com' business unit dedicated to collecting pupil feedback on classroom climate via the internet. Transforming Learning was used in over 2000 schools. In 2003 he founded Hay Group's education practice, leading a team of consultants working directly with leadership teams in hundreds of schools of every phase, size and location, as well as government agencies.
Russell has been a prolific researcher, writer and speaker on education leadership, with several influential papers, including Lessons of Leadership (comparing headteachers and business leaders), Culture for Learning (examining the values and beliefs of effective schools) and Rush to the Top (dissecting the pros and cons of fast track schemes). He has also written a book on hiring for passion and talent rather than technical skills alone – the School Recruitment Handbook.
Russell's experience spanning education, private industry and government has made him a passionate advocate of the quality of leadership in our schools, and he has had frequent opportunity to spread the word on the lessons that business could learn from education. Taking up post as General Secretary of the NAHT in September 2010 is an opportunity to campaign directly for the conditions that enable people to be great leaders in our schools.
Russell lives in Brighton and has two children at primary school in the town. Between work and family there is little time for hobbies, but a good book is always welcome!
---

NAHT is an independent trade union and professional association representing 28,000 members in England, Wales and Northern Ireland.  Members hold leadership positions in early years; primary; special and secondary schools; independent schools; sixth form and FE colleges; outdoor education centres; pupil referral units, social services establishments and other educational settings.