Chris Keates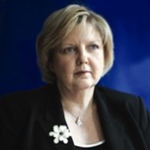 General Secretary of the NASUWT
Chris Keates graduated in Archaeology and History from Leicester University. She gained her PGCE at Birmingham University and taught humanities in two Birmingham comprehensive schools from 1974 until 1994, before becoming an advisory teacher in the Birmingham LEA Central Support Services.
Chris held a number of elected offices within the NASUWT prior to joining the staff of the Union in 1998 when she was appointed an Assistant Secretary with responsibility for co-ordinating the development and implementation of Union policy.
In April 2001 Chris was appointed Deputy General Secretary, and in October 2004 she was elected as General Secretary of the NASUWT.
NASUWT is the largest teachers' union in the UK and is one of the ten largest affiliated to the TUC.
Chris has extensive experience of the education service and has served, and continues to serve, on a wide range of Government task groups and advisory committees.
---