Malcom Trobe CBE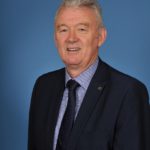 Interim General Secretary, Association of School and College Leaders
Malcolm Trobe has worked for ASCL since 2008 and is currently Interim General Secretary. He was previously headteacher of Malmesbury School in Wiltshire for 17 years. He also taught in schools in Hampshire and Dudley, and for five years was the TVEI (Technical and Vocational Educational Initiative) Director for Dudley MBC.
In 1996 Malcolm joined ASCL Council. He served as Chair of Funding, Pay and Conditions Committee and Honorary Secretary. He was ASCL president in 2006-07.
He is currently on the Advisory board of the EFA and works with a range of other government and associated groups including the Expert Group on the revision of NPQs. He was previously on the board of the Young People's Learning Agency, on the National Council of the LSC and the DCSF Expert Group on 14-19 education. He also has significant experience in curriculum and assessment having been a chief examiner at both 'O' level and GCSE. Malcolm was awarded a CBE for services to education in the 2016 Queen's Birthday Honours list.
ASCL is Britain's leading professional body representing over 18,000 school, college and system leaders, across the UK, including primary schools, multi-academy trusts and those working across phases.
---