Tom Wilson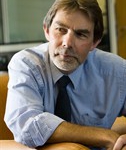 Director of Unionlearn, Trades Union Congress
Tom was appointed Director of Unionlearn – the education, learning and skills organisation of the TUC – in July 2009. Prior to that, Tom had been Head of the Organisation and Services Department at the Trades Union Congress (TUC) from July 2003.
Tom was previously head of NATFHE's Universities Department for five years, having before that been Head of Research and then Assistant General Secretary at the Association of University Teachers from 1988. His other experience includes two years in employment research, with Incomes Data Services (a publishing house specialising in employment publications), and then five years with the GMB (the UK's fourth largest trade union). Tom was also the National Trade Union Liaison Officer for the Labour Party (1986-1988).
Tom has an MA in Industrial Relations from Warwick University (1978-79) and a Diploma in Social Administration from York University. His first degree was in Philosophy from St Andrews University. In 1996 Tom gained a postgraduate Certificate in Employment Law from Middlesex University.
A Fellow of the Institute of Personnel and Development, the professional institute for management involved in personnel and staff development.