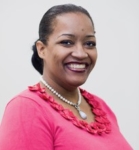 Chief Marketing Officer at Telefónica Open Innovation (UK) & Wayra UK
Kymberlie also sits on the Governing Board of Ada – National College of Digital Schools, where she chairs the Education Committee.
Featured on the BBC's television programme The Speaker, she is an accomplished High Impact Communications Master Trainer, Public Speaker, and Executive Coach, who works across four continents with bases in London and New York.
Kymberlie learn her craft as an award-winning veteran BBC Journalist by tutoring and supporting people, organisations, and governments with interesting stories to deliver their message to audiences of up to 140 million.  The most reluctant became confident and engaged her to work with their teams, staff, and governing bodies.  With a consistent track record in impacting people, business, and brands, she delivers masterclasses and executive coaching in how to lead, present, articulate, and pitch with impact.
Among others, she advises and coaches: the Foreign & Commonwealth Office, Members of Parliament, the Amos Bursary, the first technology academy for girls in Africa, and high net-worth individuals on effective leadership.  She is a Fellow of the Royal Society of Arts, where she is also the Engage Pitch Coach-in-Residence.