Over 150 volunteers have been visiting primary schools across Blackpool this week to help raise aspirations and broaden the horizons of children in the areas.
Below are a small selection of photographs. To see the rest please click here.
To get involved either as a school or volunteer just visit the Primary Futures website.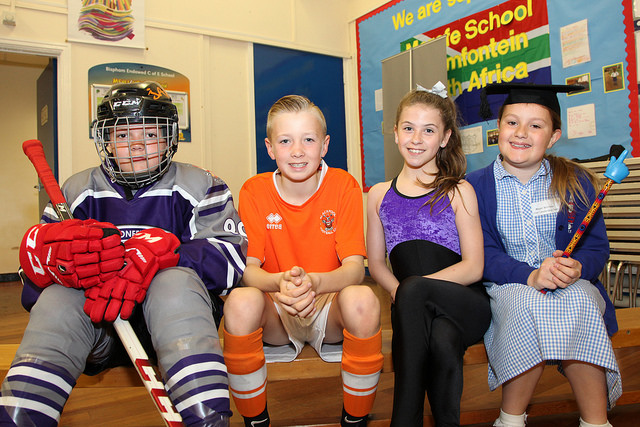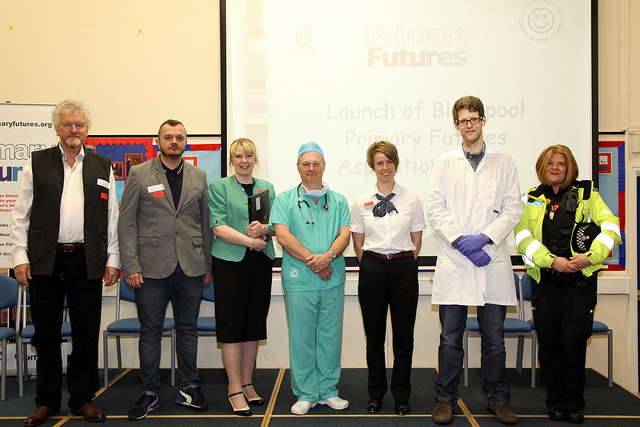 The reaction from the children has been amazing. One eight year old from Stanley Primary School said "what I loved about this day was that we got to explore different jobs that are in the world that we didn't know about. This experience has allowed me to keep an open mind about my future job".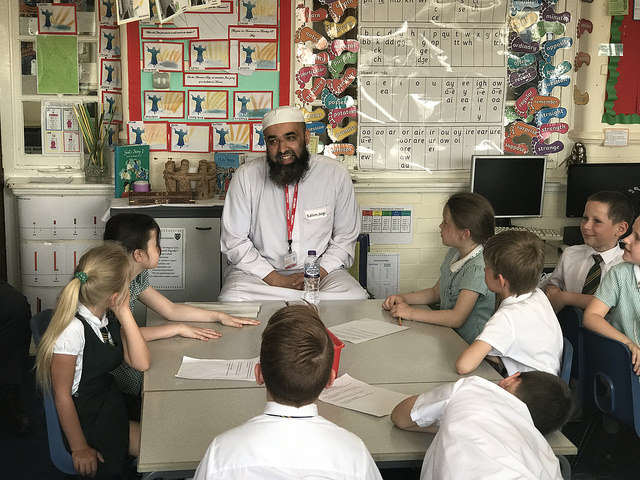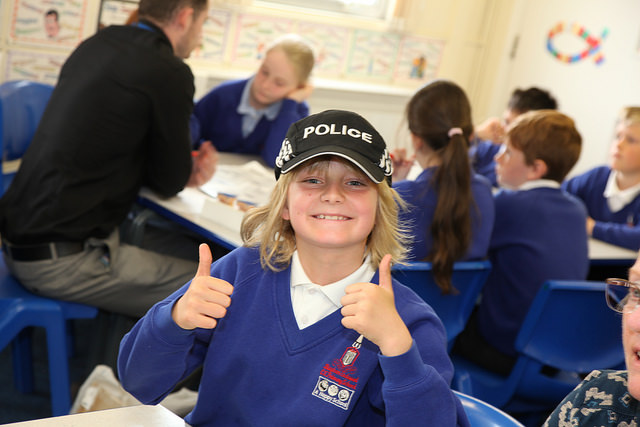 It all started last year, with one Blackpool school, St Nicholas C of E Primary, hosting an event with volunteers. At the time the school only had access to the 45 volunteers registered on the free online matchmaking system,  Inspiring the Future. Thanks to the success of the event word has spread and there are now over 500 volunteers registered in the Blackpool area.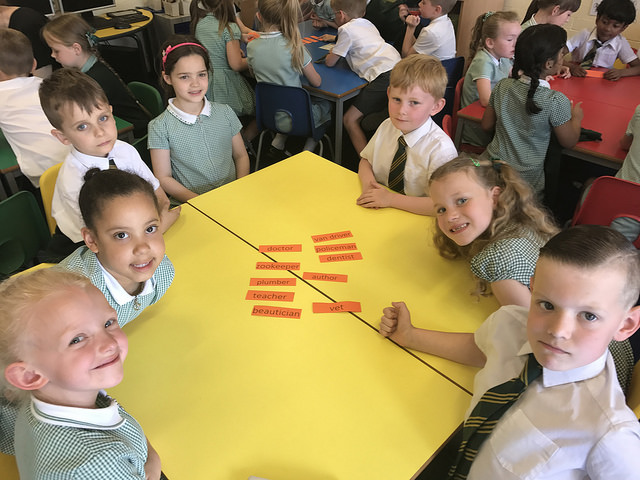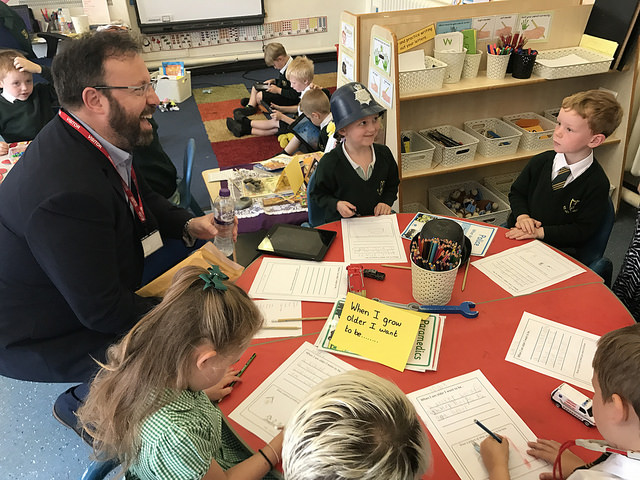 This week has seen a series of activities with volunteers from the world of work chatting to the children about their job, career route and the subjects they studied at school. Volunteers have represented a huge variety of industry sectors and many of the major employers from Blackpool Council, NHS and HMRC to Liverpool School of Tropical Medicine, Radio Wave, Lancashire Police, the Merchant Navy and many more.
Andy Mellor, Headteacher of St Nicholas C of E Primary believes that this is a project which has real impact on the lives of primary aged children. He said that "We want our children in Blackpool to aspire to be the best that they can be, to work hard and achieve their full potential. The partnership between schools and the business community in Blackpool and wider afield is seeing children inspired to achieve more and widens their horizons. The country is looking to Blackpool as a model for this work and the town should be proud of this work which is setting the pace nationally, and it is free to schools!"
Read the coverage from the Blackpool Gazette.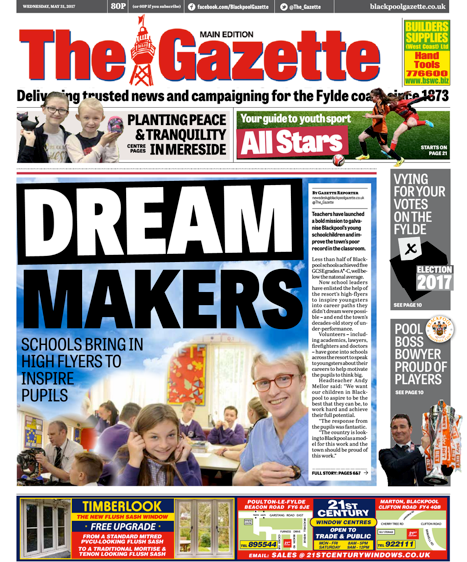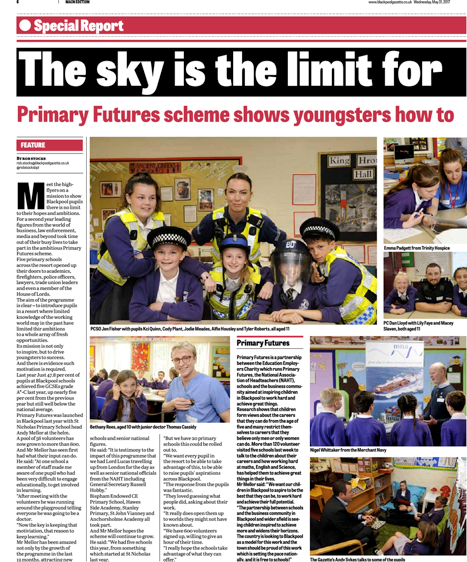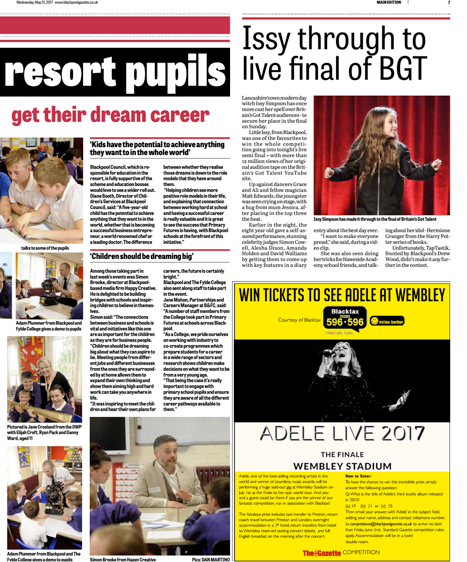 The schools who took part were:
Bispham Endowed C of E Primary School, Monday 22nd May
Hawes Side Academy, Tuesday 23rd May
Stanley Primary School Wednesday 24th May
St John Vianney Catholic Primary, Thursday 24th May
Anchorsholme Academy, Friday 25th May 
Special thanks go to 5 people who took part every day – Jane Croft, Effie Sharpe, Kath Corrigan and Nigel Whitaker, and to those who traveled from London to take part in Blackpool Aspirations week including Lord Lucas, Editor of the Good Schools Guide,  Kim Johnson, Anne Lyons, Russell Hobby and Charles Horesey. The volunteers who took part included:
Bispham Endowed C of E Primary – Monday 22nd May
Andy Mitchell
Presenter
Radio Wave
Anna Marchwacka
Finance Assistant
Trinity Hospice and Palliative Care Services Ltd
Caitlin Davis
Student
Blackpool Sixth Form College
Carol Wylde
Nurse
Brian House Children's Hospice
Charles Horsey
Transport for London
Derek Longstaff
Appeals Mandatory Reconsideration Officer
Her Majesty's Revenue and Customs
Effie Sharp
Senior Primary Education Consultant
Randstad Education
Inspector James Martin
Neighbourhood Policing Inspector
Lancashire Police
Jackie Bullock
Database Administrator
Trinity Hospice
Jane Crosland
Policy analyst/Olympic torch bearer
Civil Service
Jeanette Atherton
Curriculum Leader – Computing
Blackpool and the Flyde College
John Stirzaker
ZXDigital
Recording company
Kath Corrigan
Tech project manager/acupuncturist
Children, health and pension services / DWP
Kelly Crompton-Roberts
Her Majesty's Revenue and Customs
Kim Johnson
Immediate Past President
NAHT
Lauren Codling
Community Fundraiser (Inspirational Speaker)
Blue Skies Hospital Fund
Lord Lucas
Editor
The Good Schools Guide
Maria Smale
Business Manager
McDonalds
Michelle Rouine
Recruitment Team Manager
Training 2000
Monika Balcerak
Student
Blackpool Sixth Form College
Nick Harper
Consultant Anesthetist
NHS – Blackpool Victoria Hospital
Nigel Whitaker
National Secretary/ambassador
Merchant Navy
PC Claire Van Deurs Goss
Immediate Response Officer
Lancashire Police
Peter Ashworth
Chief Executive
Cidari Multi Academy Trust
Rachel Younger
School Business Manager
St Nicholas Primary School
Shirley Morgan
Press and communications manager
Trinity Hospice and Palliative Care Services Ltd
Dr Stuart Ainsworth
Biological Scientist
Liverpool School of Tropical Medicine
Sue Hirst
Head of Fast track
Civil Service
Suzanne King
Defence business improvement
Ministry of Defence
Prof. Ted Smith
Research Engineer
University of Central Lancashire
Victoria Auld
Pilot
British Antarctic Survey
 Hawes Side Academy – Tuesday 23rd May
Anne Lyons
National President
NAHT     
Andrew Davies
Media Specialist and Practitioner
Blackpool and the Flyde College
Brett Blackburn
Ministry of Defence / comms
Civil Service
David McIntyre
Prospective PGCE Chemistry Student
University of Central Lancashire
Dr John Welshman
Senior Lecturer
Lancaster University
Effie Sharp
Senior Primary Education Consultant
Randstad Education
Emma Padgett
Community Fundraiser
Trinity Hospice and Palliative Care Services Ltd
Hayley Topselvi
Education Coordinator
Chamber of Commerce
Jane Crosland
Policy analyst/Olympic torch bearer
Civil Service
Julia Brown
Work Coach
Department for work and pensions, Jobcentre Plus
Julie Birkett
Land Registry Executive
Civil Service
Kath Corrigan
Tech Project Manager/Acupuncturist
Children, health and pension services / DWP
Lauren Codling
Community Fundraiser (Inspirational Speaker)
Blue Skies Hospital Fund
Leanne Marie Docherty
Business Develop Manager/ Director
Vllancs/ LM Training
Michelle Rouine
Recruitment Team Manager
Training 2000
Mike Taplin
Senior Manager
Blackpool Council
Nigel Whitaker
National Secretary/Ambassador
Merchant Navy
PC Ian Ashton
Community Cohesion Uniformed Police Officer
Lancashire Police
Reene Hilton
Community Cohesion and Special Constable
Lancashire Police
Dr Stuart Ainsworth
Biological Scientist
Liverpool School of Tropical Medicine
Stanley Primary – Wednesday 24th May
Adam Plummer
Curriculum Manager in Engineering
Blackpool and the Flyde College
Andy Fairbrother
Director Business Operations
Associated Training Solutions Ltd
Andy Sykes
Deputy Editor
Blackpool Gazette
Effie Sharp
Senior Primary Education Consultant
Randstad Education
Elizabeth Fecitt
Service Improvement and Implementation Analyst
The Royal Bank of Scotland
Emma Love
HEO
DWP
Emma Padgett
Community Fundraiser
Trinity Hospice and Palliative Care Services Ltd
Hollie Woodard
Project Manager – Rail
VolkerRail Ltd
Jane Crosland
Policy analyst/Olympic torch bearer
Civil Service
Jeannie Schofield
Photographer
Jen Fisher
Special Constabulary and Volunteer Co-ordinator
Lancashire Constabulary
John Westhead
Head of Operations and Learning
Training 2000
Karen Lambert
Marketing and Branding Director
Happy Creative
Kath Corrigan
Tech Project Manager/Acupuncturist
Children, health and pension services / DWP
Lauren Codling
Community Fundraiser (Inspirational Speaker)
Blue Skies Hospital Fund
Marj Bullen-McCandless
IT Supplier Performance Manager
DWP Digital
Michelle Rouine
Recruitment Team Manager
Training 2000
Michelle Stevenson
Executive Director (Legal), Solicitor
Progress Housing Group Limited
Nigel Whitaker
National Secretary/Ambassador
Merchant Navy
Paul Dewhurst
Chief Information Officer
Blackpool and the Flyde College
Sarah Riley
Poverty & Partnerships Coordinator
Great Places Housing Association
Sharon McDonald
Lawyer
Napthens
Shirley Morgan
Press and Communications Manager
Trinity and Brian House
Simon Brooke
Marketing and Branding Director
Happy Creative
Simon Page
Pastor
Thomas Cassidy
Foundations Year One Doctor
York Hospital Trust
Zahoor Ahmed
AO
HMRC -TCO
 
St John Vianney Catholic Primary – Thursday 25th May
Andrew Cook
Regional Director North West
Ofsted
Andrew Evason
Waste Management and Compliance
Environment Agency
Andy Fairbrother
Director Business Operations
Associated Training Solutions Ltd
Andy Iredale
Director of Customer Engagement
Blackpool and the Flyde College
Effie Sharp
Senior Primary Education Consultant
Randstad Education
Helen Walbey
Policy Chair for Health and Diversity 
Federation of Small Businesses
Jane Crosland
Policy Analyst/Olympic torch bearer
Civil Service
Jonathan Barnes
Relationship Director
Santander
Julie Birkett
Land Registry Executive
Civil Service
Kath Corrigan
Tech Project Manager/Acupuncturist
Children, health and pension services / DWP
Katie Donnelli-Hun
Student
Blackpool Sixth Form College
Lauren Codling
Community Fundraiser (Inspirational Speaker)
Blue Skies Hospital Fund
Michelle Rouine
Recruitment Team Manager
Training 2000
Nigel Whitaker
National Secretary/Ambassador
Merchant Navy
PC Claire Van Deurs Goss
Immediate Response Officer
Lancashire Police
Police Sgt Darrell Shuck
Uniformed Community Cohesion Sgt
Lancashire Police
Russell Hobby
General Secretary
NAHT     
Salim Jogi
Administration Officer
Her Majesty's Revenue and Customs
Sharon McDonald
Lawyer
Napthens
Sarah Cutts
Freelance Translator
Suzanne Hall
Renewal and Digital Strategy Team
Her Majesty's Revenue and Customs
 
 
 
Anchorsholme Academy – Friday 26th May
 
 
Callum Graham
Ex pupil/ Sixth form student
Carlos Pascual
Vet
Andrew Mellor Vets
Charles Peill
Nursing Department
Blackpool Victoria Hospital
Darcey Hughes
Student (ex pupil)
Blackpool Sixth Form College
Effie Sharp
Senior Primary Education Consultant
Randstad Education
Hannah Dell'Armi
Production Director and Studio Manager
Little Lovebird Paperie & Every1
Harriet Simpson
Speech and Language Therapist
The Language Tree
Ian Clare
Photographer
Jane Crosland
Policy analyst/Olympic torch bearer
Civil Service
Jenny Wright
Senior Credit Partner
Santander Corporate Bank
Jordan Kehoe
Restaurant Manager
Blackpool and the Flyde College
Joseph Spencer
Architect
Firth Architects
Kath Corrigan
Tech project manager/acupuncturist
Children, health and pension services / DWP
Liane Hickson
Staff Nurse
Trinity Hospice
Lorna Bolton
Community Beat Manager
Lancashire Police
Lynnsey Burn
Pharmacist
 Boots
Michelle Rouine
Recruitment Team Manager
Training 2000
Ndifreke Ekaette
LPC Student
University of Law
Nick Harrison
Myerscough College
Nigel Whitaker
National Secretary/Ambassador
Merchant navy
Paul Fielding
PR, Media and Communications Manager
Blackpool & Flyde College
Paul Harter
Blackpool Station Manager
Network Rail
Paula Claytonsmith
Director Strategy & Performance
Gaist Solutions Ltd
PC Guy Harrison
Uniformed Community Beat Manager
Lancashire Police
PCSO Hannah Fryer
Uniformed PCSO for Neighbourhood Policing
Lancashire Police
Steve Richards
 AO Operations Director
AO.com
Tess Page
Principal
Mercer