Just because Covid-19 prevented the World Economic Forum (WEF) being physically in Davos this year, our charity didn't want young people there to miss out on their chance to be inspired.
Each January for the last two years (see below), Education and Employers has organised for people who are in Davos for the WEF to visit local schools and chat to young people. It has enabled primary and secondary students to meet an amazing range of people who can inspire them, talk about the different subjects they studied, and show them some of the different jobs and career routes they might not be aware of. It is also a wonderful opportunity for the delegates to be able to meet the young people of Davos, to hear what they think and what issues matter to them.
This year, in partnership with the Swiss charity MOD-ELLE and with the support of OECD Education, our charity has arranged four virtual sessions – one with Davos primary schools and three with secondary schools in Davos and Klosters.
The first event on Wednesday 27th January was a Q&A chat with CEO and co-founder of Snapchat, Evan Spiegel. Students had the chance to ask Evan questions about being a CEO, the Snapchat app, his favourite subjects in school and how he got to where he is today.
On Thursday 28th January, primary children in three different classrooms in Davos simultaneously joined a virtual interactive Primary Futures session running in German. The children had the chance to hear from four multilingual volunteers who talked about their jobs. Children asked some fantastic questions to find out more about the volunteers' roles, including: "What's your favourite language to use in your job?", "Have you ever had doubts about the job you do?", "Did you want to do something different when you were younger?", "Did you go to university?". Reflecting on the session, children learnt "that it's possible to have more than one job in your life", and "not to give up on your dreams".
The volunteers taking part were:
Dr Mara Harvey, Author and advocate for financial literacy and equality, Switzerland
Donald Rutherford, Interpreter, UK
Violette Ruppanner, Organisational consultant and dialogue facilitator, Switzerland
Hajar el Haddaoui, Head of Region West & Tessin, Swisscom, Switzerland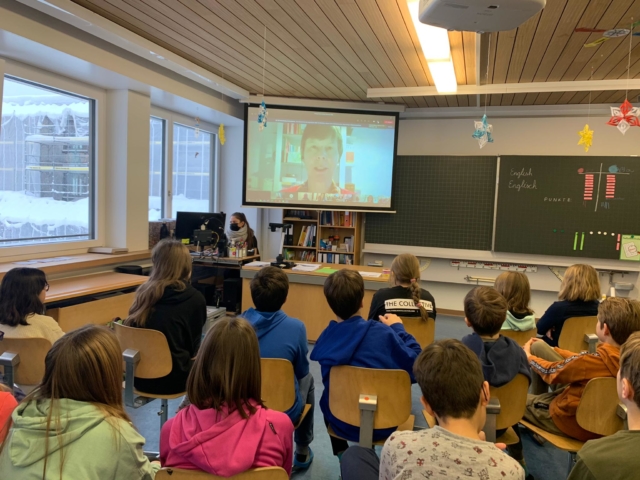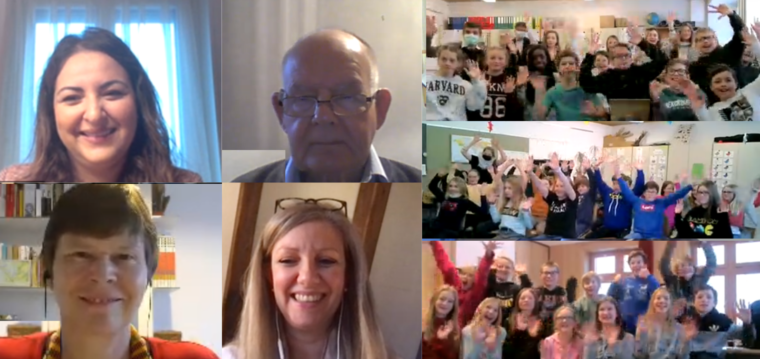 Before the activity, the children sent the volunteers drawings of their dream jobs – here are just a couple of them: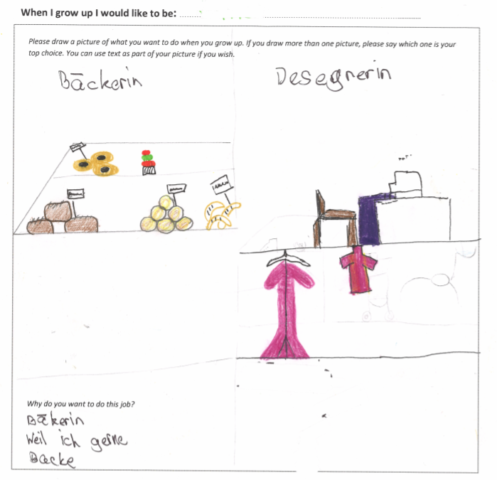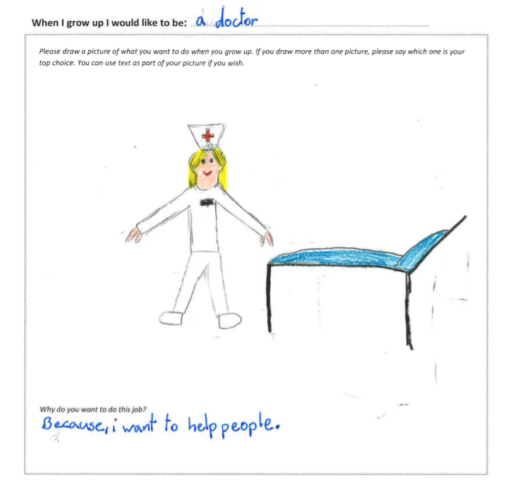 The young people of Davos made a video for the volunteers to show what it looks like this year without WEF.
Two further Inspiring the Future sessions took place on Friday 29th January.
In Klosters, students heard from:
Ramya Krishnaswamy, Head of Institutional Communities, Member of the Executive Committee, World Economic Forum, Switzerland
Professor Geoff Richards, Executive Director, AO Foundation, Switzerland
Deniz Gmur, Head of Development, Analytics & Services, Roche Diagnostics, Roche, Switzerland
Marco Montefiori, Managing Partner, Payflow Digital, Switzerland
James Nicholson Bowers, Business Engagement Lead, ICT & Professional Services, World Economic Forum, Switzerland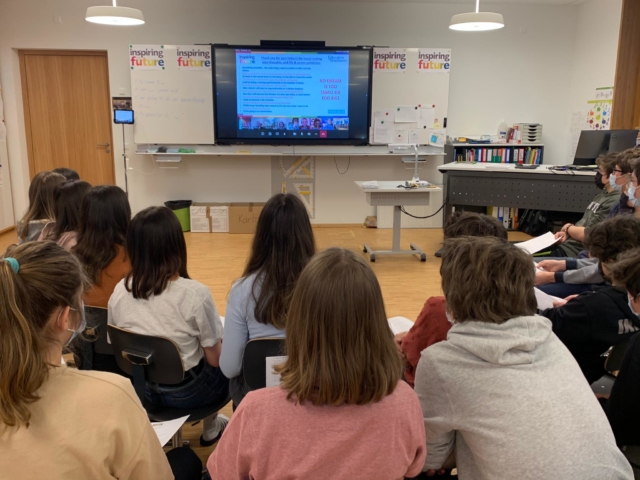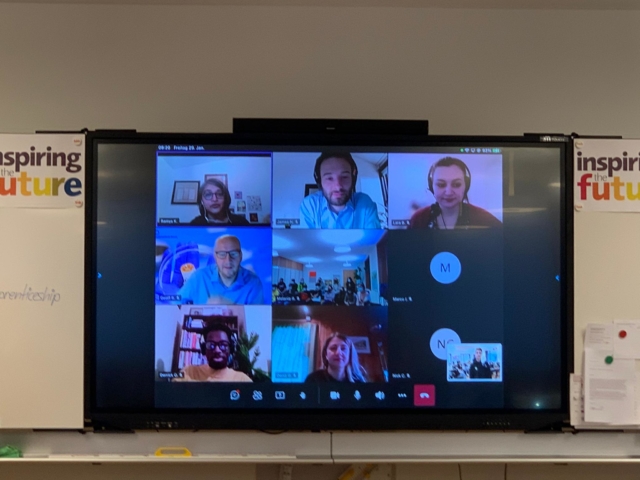 The Davos volunteers, who were joined by the Mayor of Davos, Philipp Wilhelm, were:
Professor Andreas Schleicher, Director of Education and Skills, OECD, France
Peter Ssenkusu, Headteacher and University Lecturer, Uganda
Jennifer Wu, Advisor Scantrust, Switzerland
Bal Choda, Lead Engineer – Manufacturing, Aston Martin, UK
Tatjana Topalovic, Senior Program Manager, Diversity, Inclusion and Mentorship, AO Foundation, Switzerland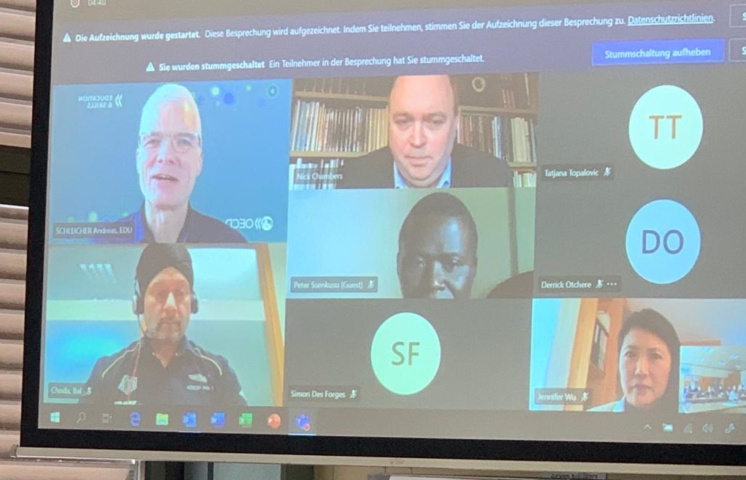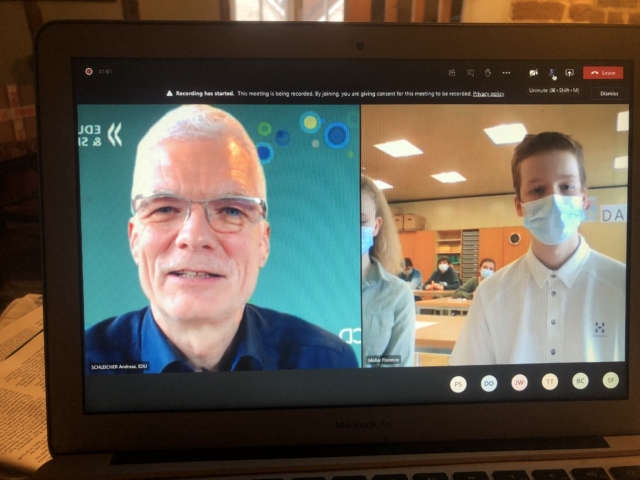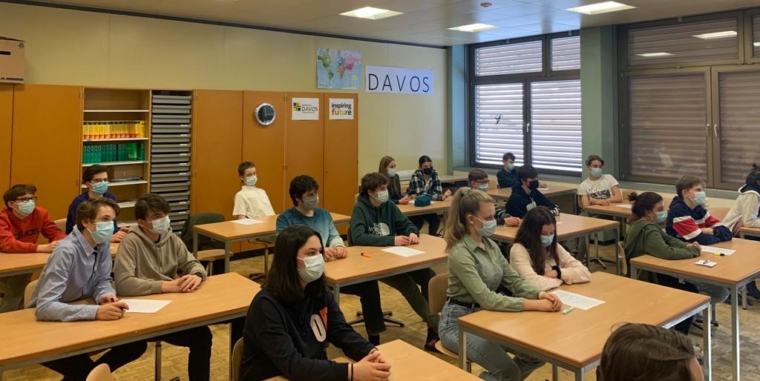 On the previous day, Andreas Schleicher spoke about what education would look like in the future in a webinar hosted by the Organisation for Economic Co-operation and Development (OECD) and Education and Employers. He was joined by another of the volunteers, Peter Ssenkusu, and outlined and discussed four different scenarios.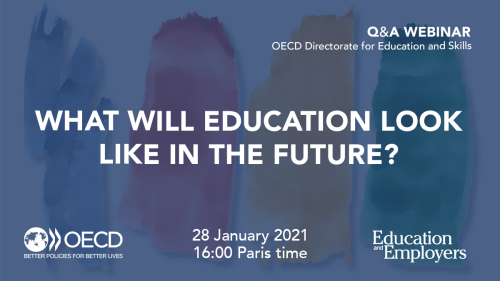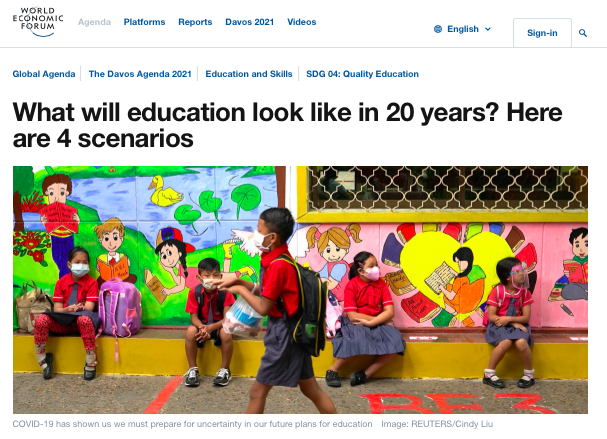 Previous events – Davos 2019 and 2020
2019 – For the first time ever, WEF delegates visited the Davos Primary School generating an amazing response from children and delegates alike. Details, pics and videos here.
At the event, the OECD Education with Education and Employers launched a report – Envisioning the Future of Education and Jobs: Trends, Data and Drawings.
2020 – The students aged 13 -16 wrote about the issues that mattered to them and their own career aspirations. WEF delegates visited classrooms and discussed with students the letters they had written, shared their insights and experiences. Details, pics and videos here.
The OECD launched their Dream Jobs report at this event.

Research by our charity shows that interactions like these help to excite young people about the subjects they are studying; increase their motivation; build their confidence; broaden their horizons; raise their aspirations; challenge gender, social and ethnic stereotypes; and improve academic attainment.
Education and Employers have developed and refined ways of running interactive virtual sessions for schools (details here) where young people in the classroom can interact with volunteers. One big advantage is that is young people can get the chance to interact with a much wider range of people from across Switzerland, on indeed the world. And it's easier for volunteers. Who can't spare a few minutes to chat to young people and inspire our future generation from the comfort of their own home or place of work? Sign up here.