Latest research from the Our Future Derby project shows a vitally positive impact on children's motivation and aspirations at a time when children faced unprecedented challenges in their education. 
The Our Future Derby project was launched in 2019 to expand children's horizons, challenge stereotypes, and enhance social mobility. It was commissioned and funded by the Opportunity Area Board, and delivered by Education and Employers alongside Learn by Design, with research led by Dr Deirdre Hughes OBE, Director of dmh associates. Since its launch, the project has taken a pioneering approach to career-related learning, linking children across 33 Derby primary schools with inspiring role models from the world of work – to significant effect.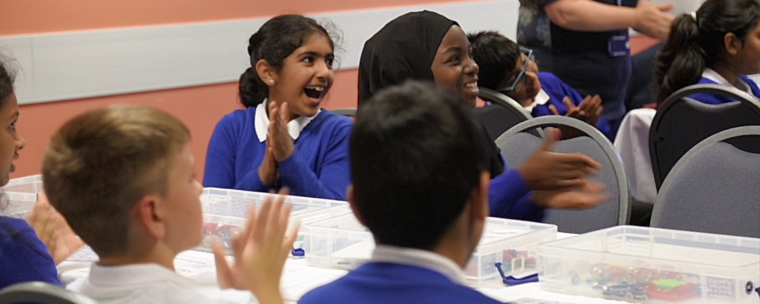 New research findings
From January to July 2021, the project engaged over 7,500 children and teachers in a range of career-related activities with local role models across backgrounds and sectors. During a period when children needed motivation more than ever following disruption to their education, the project played an essential role in widening pupils' world views and showing them the vast range of opportunities they could aspire to.
Key findings from this period show that after taking part in activities: 
75% of pupils in receipt of Free School Meals or eligible for Pupil Premium agreed with the statement 'I can do any job I want when I grow up' – an increase from 66% before taking part.
78% of pupils agreed that 'Doing well at school will help me get a better job when I grow up'.
86% of pupils agreed that 'Girls and boys can do the same job'
Children could identify 24 different jobs, compared to 18 jobs before taking part.
Children's self- assessment of their skills showed an increase across 7 out of 8 key skills including problem-solving, teamwork and creativity
Read the executive summary by Dr Deirdre Hughes OBE, dmh associates
Read the latest Our Future Derby press release
Access the full report
"All of the staff have commented on how good it has been and how much the children enjoyed it. The children were excited when I spoke to them and from the times I dropped in, I could see the high levels of engagement."
– Head of School, Bishop Lonsdale Church of England Primary School and Nursery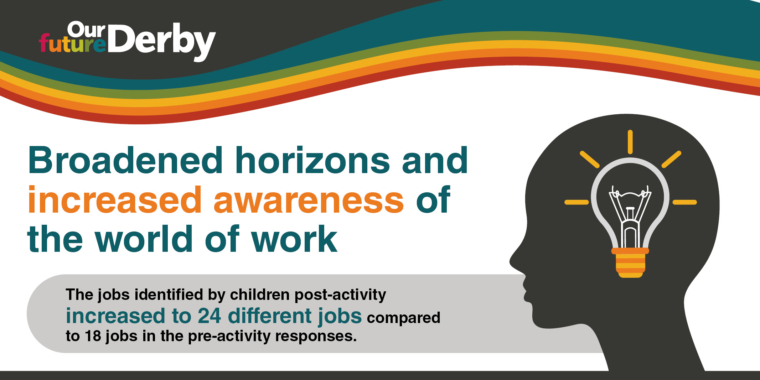 Get involved
For 2021-22, we're delighted that the project is being expanded across the Derbyshire and Nottinghamshire areas and relaunched as Our Future. We're therefore looking for more people to volunteer as role models in the wider area. As the attainment gap threatens to grow post-pandemic and efforts remain high to re-ignite motivation for learning, children in the region will continue to hugely benefit from meeting role models across all different job levels, sectors and role types. By volunteering with the project, you can help inspire children to broaden their horizons and imagine exciting futures.
Become a volunteer with Our Future Derby
Are you a school in the area and would like to get involved? Email us to find out more.