What do young people feel about the future?
A new international survey is being launched today looking at what 14-18 year olds think about the future.
The findings will be published in a report entitled "Facing the Future" with the OECD during the World Economic Forum in late January 2020 in Davos.
The international survey asks 14-18 year olds about the issues that matter most to them, their career aspirations and concerns about the future. The on-line survey  called "Your Voice" comprises mainly of tick boxes and three questions where students can provide written answers. In addition, they can indicate if they want to record a short video or write a letter. It gives them the chance to highlight issues that matter to them and to get their voices heard on an international platform.
To take part in the survey please click here .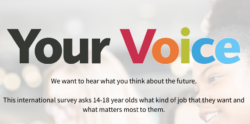 If you have any questions about the survey, please get in touch with Martin Rogers, Senior Researcher, Education and Employers, Martin.Rogers@educationandemployers.org, telephone 0207 566 4894
Over the last ten years our charity Education and Employers and our partners have undertaken extensive research into the impact on young people of interacting with the world of work. The research has shown that such encounters help to broaden young peoples' horizons and raise their aspirations; excite children about subjects, increase motivation, confidence and attitude to learning; challenge gender and social stereotypes; improve academic attainment at GCSE; and reduce the likelihood of young people becoming NEET – Not in Education, Employment or Training. For more information and details of how schools can get the best outcomes for young people please see this recent article.
The aim of this new international study is to find out more about the issues that matter most to young people, their career aspirations and concerns about the future. We are asking them why they want the jobs that they do, who has inspired them into wanting those jobs and how confident they feel about getting them. It follows on from our Drawing the Future report on the career aspirations of 7- 11 year olds – details below.
Drawing the Future
The survey of 14-18 year olds follows on from a survey of 7- 11 year olds who were asked to draw a picture of the job they want to do when they grow up. The biggest survey of its kind sought to determine the factors influencing career choices, if the children personally knew anyone who did the job, and if not, how they knew about the job, as well as their favourite subject. Over 20,000 entries were received from Albania, Austria, Australia, Bangladesh, Belarus, China, Columbia, Iceland, Indonesia, Mexico, Pakistan, Philippines, Portugal, Romania, Russia, Serbia, Switzerland, Uganda, UK and Zambia.
Produced in partnership with the NAHT, OECD Education and Skill, TES Global, UCL Institute of Education (IOE) and Education and Employers the key findings were:
The patterns of jobs chosen by seven-year-olds mirror those selected by 17-year olds
Gender stereotyping about jobs is set from a young age
Family, TV, radio and film have the biggest influence on children's choices
There is a need for greater access to career role models from a young age
Children's career aspirations have little in common with projected workforce needs, which could have serious implications for the UK's economy
Children in some developing countries often aspire to more professional jobs than those in some affluent countries.
The report which can be read here. was presented to economic and business leaders from around the world at Davos on the 25 January 2018. Media coverage included