On Tuesday 18th and Wednesday 19th June, we took our Inspiring London campaign to the glamorous Guildhall.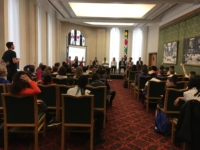 We spent two days at the Guildhall in London to raise the aspirations of local children and young people by opening their eyes to the possibilities available to them in their futures.  We ran numerous sessions across the two days to introduce a number of students to a range of new role models.
On Tuesday morning, we welcomed children from Mission Grove Primary School and Ambler Primary School to the beautiful building to be introduced to our volunteers through our fun 'What's My Line?' activity.  They started off by drawing what they wanted to be when they grow to get them thinking.
After they finished their drawings, their role models arrived on stage, answering either "yes" or "no" during an amazing interrogation to find out what our volunteers do for a living.  Some questions that were asked are: "Do you work in an airport?" and "Do you work with animals?"
In this session, one pupil asked a question that led to them discovering what one volunteer, Megan, did.  The question was "Do you work in a hospital?" and led to the children discovering that Megan is a doctor at King's College London.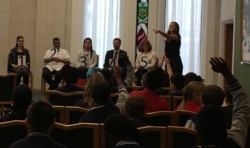 The other volunteers in this session had jobs that were a bit harder to guess, but were just as intriguing.  They included Stuart from AKO Capital, Ali from Rathbone Brothers Plc, Rachel from The Ambassador Theatre Group, Raj from HMRC, and Education and Employer's Salesforce Manager, Simon.
One child told us what they thought of the day: "I think it was perfect."
The second session saw the return Ali, Rachel, Raj, and Simon with Carole from Coventry University London joining them.  During this session, they became the role models for the pupils Redriff Primary School and Bonneville Primary School, who also asked some fantastic questions and made some brilliant guesses at what our volunteers do.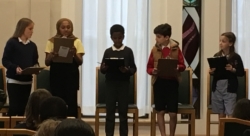 Just before the end of the activity, one pupil asked a wonderful question: "What inspired you to do your job?"  All the volunteers gave brilliant answers, explaining what they wanted to do when they were children and how they ended up where they are.
"The best part of today's activity," said one inspired pupil, "was finding out new jobs that can make me successful and how fun jobs are."
For the last session, there were a number of different volunteers, including one special guest who, as the children from found out, is the Lady Mayoress of London and has met the Queen, which shocked them all!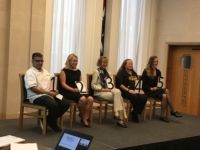 The other guests included: Amelia from Liberty Global Group, Anne from the Royal Navy, and Hannah from the Royal Air Force.  The final volunteer for this session was Raj, who kindly volunteered for the whole day to help raise the aspirations of children in London!  This time, he and his fellow volunteers were inspiring pupils from Sir John Cass's Foundation Primary School and Gillespie Primary School, who showed off their amazing investigative skills when asking their questions and making their guesses.
Everyone enjoyed the day, with one volunteer saying: "Thank you – can I do it again?!"
On Wednesday, we had two career speed networking sessions with young people from Full Cross Girls' School, Dunraven School, and Lee Valley Academy.  They met loads of fascinating people from a range of different and attractive jobs.  Over the two sessions, these included:
Pradeepan from Praddy Financial Consultancy Ltd
Lyn, who runs her of public speaking business and stayed for both career speed networking sessions (pictured on the right)
Maria from EMEA
Joanne from the Home Office
Louise form BT Property
Andy, who works at Google
Marianela from EAA Portfolio Advisors GmbH
Richard from Brockwell Capital
Sarah from Independent Clinical Services
Harry from Dewynters
Sufina, who works for the City of London Corporation
Kal from Cinven
Angharad from Prudential
Katie, who works for Citizens Advice
It also saw the return of Ali, Stuart, Ann, and Hannah from the 'What's Our Line?' sessions the day before.  This time they, along with all the other volunteers, were able to share their experiences and give tips on how to follow their career paths.
"It was fun listening to life stories and what they have become," said one enthusiastic student.
"I loved the communication and interactive work we did," said another student about our new bingo and ice-breaker sessions, where students are given clues as to guess what each of the volunteers do.  "And I loved learning about different jobs."
Both sessions were hugely successful, with Harry even giving one student a list of websites to visit for more information about his career and the theatre.  Every student had a chance to speak to all the volunteers in their session to see the range of careers that are available to them and one student said that he "really enjoyed all the volunteers."
Here are some more photos from our 'What's My Line?' assemblies: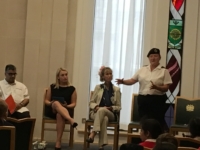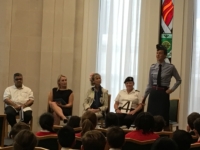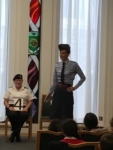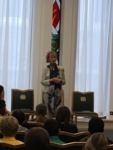 Check out more pictures from our careers speed networking sessions: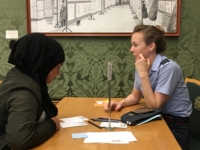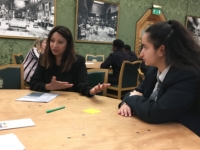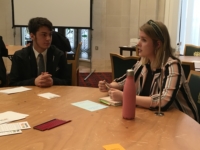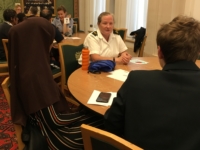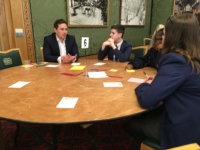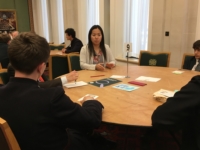 If you're interested in holding one of these events in your school, please visit either the Primary Futures or Inspiring the Future websites.  Alternatively, you can email our schools team at enquiries@inspiringthefuture.org.