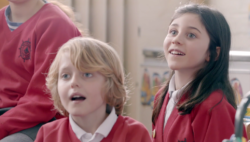 Following the continued success and growing demand of Inspiring the Future and its other campaigns in the UK, we are partnering with the Schools Industry Partnership (SIP) who are rolling out the programme in Australia. The SIP is a non-profit incorporated association that has been working to provide work placement coordination in Australia since 1995.
Interest in the aim to breakdown gender stereotypes was brought to Australian attention this week, following media coverage of our #RedrawTheBalance video which has now had over 25 million views. (https://www.youtube.com/watch?v=kJP1zPOfq_0). The video, created with the support of Mullen Lowe, reveals the gender stereotyping already influencing the thought of primary age children. At this young age, children already categorise certain jobs according to gender. This reaffirms the importance of challenging these stereotypes to widen children's horizons at an early stage.
The SIP is not the only international body that has shown interest in the Inspiring the Future model. Last year in partnership with the British Council we launched our Inspiring Women Campaign in China, and are currently working with partner organisations in a number of countries including Bangladesh where an Inspiring Women style event was held in December 2015.
In recent years we have also responded to requests from over 35 countries interested in our research and have been invited to, and spoken in, Australia, Belgium, Canada, Cyprus, Denmark, France and Greece, as well as the United Arab Emirates and the United States of America.
We are thrilled at the prospect of launching the programme in Australia and the opportunity to raise the aspirations of children on an international scale.
Read the Australian news article here:
http://www.9news.com.au/world/2016/09/07/14/41/video-of-children-gender-stereotyping-jobs-goes-viral