The first "Inspiring Women" style event took place as a pilot in Dhaka on 23rd December 2015. Modelled on the UK campaign, it brought together many successful women from the world of work to talk with over 200 female students from different schools.
The event was hosted by Scholastica, a school in Dhaka, and supported by British MP Tulip Siddiq, who is of Bangladeshi origin and went to Scholastica as a teenager. This 'speed career networking' event saw groups of 7-15 students meet in small groups with successful women, to freely ask questions and get honest answers. Every ten minutes, the speakers rotated so the students could hear from six or more different people during the day. At the event, over 20 successful women took part including; British MP Tulip Siddiq and Madiha Murshed, Managing Director of Scholastica, who shared their thoughts and advice with the students.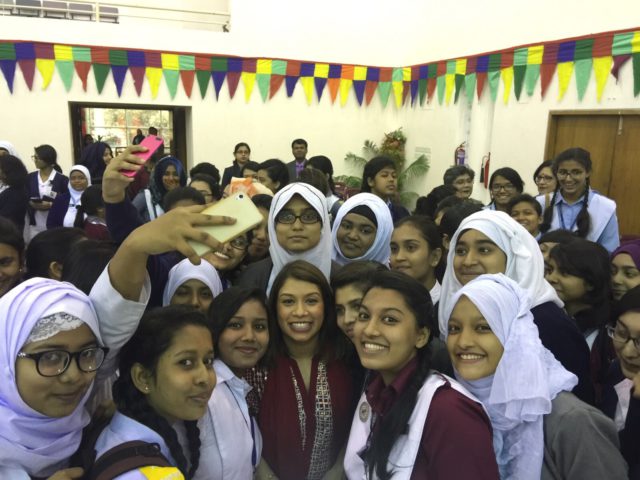 The campaign wants to help young women from all backgrounds broaden their horizons and raise their aspirations. For girls and young women, it's often 'who you know' that influences career aspirations and choice. They rely on female role models from a range of sectors, positions of responsibility and stages of their life to help to combat stereotypes about occupations – but too often girls miss out on the opportunity to learn about the wide range of jobs out there.
Volunteer Career Speed Networkers: 
| | |
| --- | --- |
| Name | Role/ Organisation |
| Amairah Ahmed | Director, Global Corporates, Standard Chartered Bank |
| Farina Ahmed | Head of Program, Acid Survivors Foundation |
| Pushpita Alam | Managing Editor, Bengal Lights, University of Liberal Arts Bangladesh (ULAB) |
| Eeshita Azad | Head of Arts, British Council |
| Farzana Brownia | Channel i |
| Dr Nushat Alim Chowdhury | Doctor; Associate Professor, Department of Ophthalmology, Bangabandhu Sheikh Mujib Medical University |
| Ashna Chowdhury | Story teller & Counselor; Founder & CEO, Thrive |
| Rabab Fatima | Director General, Ministry of Foreign Affairs and Ambassador-designate to Japan |
| Advocate Tarana Halim | Hon'able Member of Parliament and State Minister for Posts and Telecommunications Division |
| Professor Dr Farzana Islam | Vice Chancellor, Jahangirnagar University |
| Sonia Bashir Kabir | Managing Director, Microsoft Bangladesh |
| Farah Kabir | Country Director, Bangladesh, Action Aid |
| Ulfath Kuddus | Head of Admissions and Communications, Pixieland Playgroup |
| Zara Mahbub | Head of Communications and Service Quality, BRAC Bank |
| Maliha Quadir | Founding Managing Director, Shohoz.com |
| Sadaf Saaz | Managing Director, Jatrik and Director and Producer, Dhaka Lit Fest |
| Nadia Samdani | President, Samdani Art Foundation; Founder & Director, Dhaka Art Summit |
| Sadequa Hassan Sejuti | Managing Director, Future Solution for Business; Founder, Amar Desh Amar Gram |
| Luna Shamsuddoha | Chairperson, Dohatec New Media |
| Fatima Yasmin | Working for the Government of Bangladesh |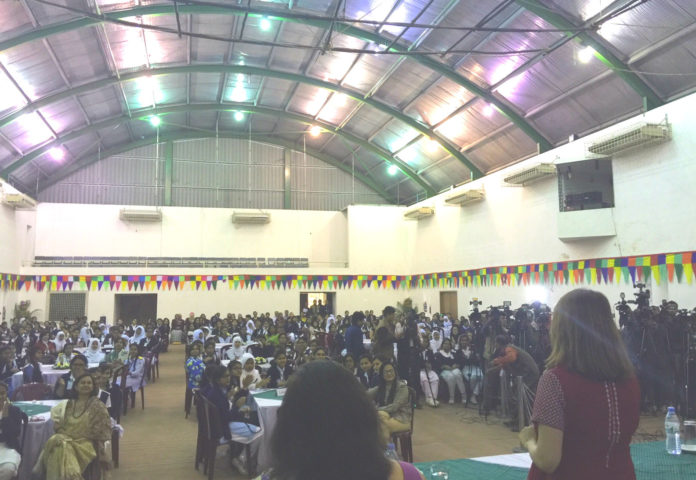 Participating schools:  
Baridhara Scholars' Institution
Bangladesh International School and College
Dhaka Cantt Girls' Public School & College
BAF Shaheen English Medium School (SEMS)
SOS Hermann Gmeiner College
Rajuk Uttara Model College
Shaheed Bir Uttam Lt. Anwar Girls' College
Ideal School & College
Scholastica
Bangladesh has had an elected female head of state longer than any other country in the world. But for the Bangladesh economy to keep growing, the country needs to make the most of its talented young women: overall, under 60% of women were employed in 2010 compared with almost 90% for men.
Media coverage of the event
Nearly all the coverage was in Bangla, but here is a collection of English language articles:
Dhaka Tribune – http://www.dhakatribune.com/feature/2015/dec/24/tomorrows-leaders
Financial Express – http://www.thefinancialexpress-bd.com/2015/12/23/7181
The Daily Star – http://www.thedailystar.net/backpage/have-faith-you-191701
Bangladesh News 24 – http://bdnews24.com/bangladesh/2015/12/23/stories-about-bangabandhu-inspire-tulip-to-join-politics
Campaign in the UK
In the UK, the "Inspiring Women" campaign is part of the broader "Inspiring the Future" service which seeks to empower schools to easily coordinate many volunteering opportunities like "speed careers" events, for both boys and girls of all ages and backgrounds. The aim is to bring about a significant culture change so that it becomes commonplace that young women wherever they live and whatever their social background, get the chance to meet a wide range of women doing different jobs – from apprentices to CEOs, archaeologists to zoologists.
We know from research in the UK that by the age of 6, children classify jobs as male and female – by the age of 8, they are limiting aspirations and then by 13 many of them have already ruled out career options that don't fit with gender stereotypes.
Inspiring the Future is a free, online, secure service that links up volunteers with schools across the country. Volunteers simply sign up to volunteer in their local area (where they live and/or where they work) and then teachers invite them in to talk to pupils about their careers: www.inspiringthefuture.org
In the UK, the overall Inspiring the Future campaign has seen great success: almost 9,000 teachers have sent over 100,000 invitations to some 25,000 volunteers, resulting in events for over half a million young people all over the country. By using a web platform and a small central team, the scheme operates at very low unit costs and is funded as a charitable endeavour by a variety of donors, grants and contracts. The campaign is run by a small charity, Education and Employers (www.educationandemployers.org)
Wider international interest
The charity has received considerable international interest in our research, Inspiring the Future and the Inspiring Women campaign. Over recent years, we have responded to invitations to speak in Australia, Canada, the United States, Italy, Denmark, Cyprus, Belgium and Italy.  Enquiries have come from over 35 countries as diverse as the Australia, Bangladesh, China, Spain, the UAE, United States and Zambia. We are currently considering how to respond to this interest, share our technology and practical experience of launching free programmes for schools in the UK – please see our International page.
Soft launch of 'Inspiring Women in China'
A soft launch of Inspiring Women in China took place in October 2015 with the help of the British Council, with a larger, more formal launch planned for Summer 2016.