It's official – our Inspiring Women initiative, part of Inspiring the Future, is now a global phenomenon. With the backing and support of the British Council China, Inspiring Women China launched in the world's biggest economy with an event in Beijing.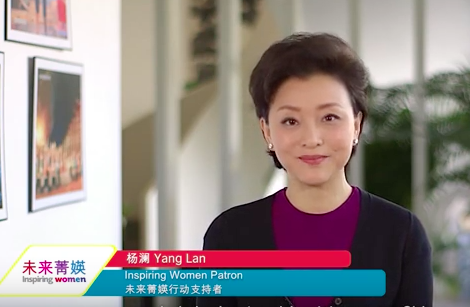 Pictured above: Inspiring Women China patron Yang Lan.
15 media outlets covered the event reaching a total audience of 26.7 million on the day with more coverage expected over time. Media from across China includes the Global Times, China Daily, China News Service, Women of China and Xinhua, the official press agency of the People's Republic of China the biggest and most influential media organization in China.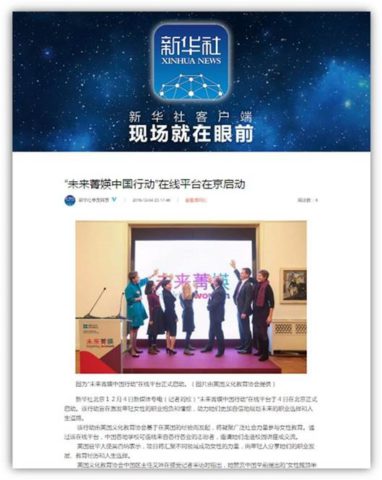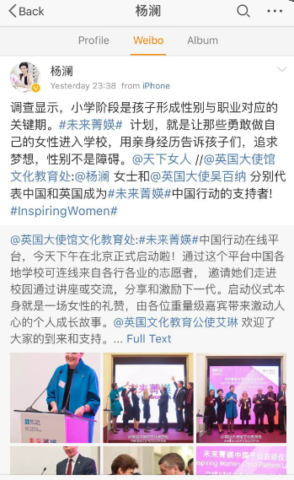 Dr Wang Yan, Director of the Department for International Exchange, NIES, Ministry of Education of The People's Republic of China said "This is incredible – by matching schools with employers, integrating the IT and volunteering services, school and workplace it changes students' attitude toward education and their career prospects. It is very inspiring and also will be useful when implemented, be instrumental for employment of tertiary graduates in China and Asia."
Carma Elliott CMG OBE, Director of The British Council China, explained why the initiative was so important in China: "This is a great initiative born in the UK but with international application. It is about including women at all levels and in all parts of the economy.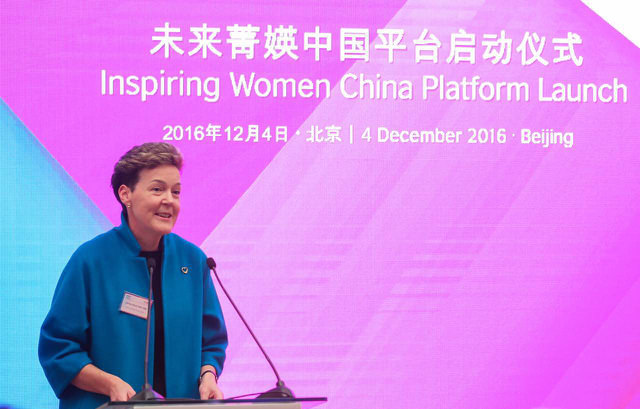 Pictured above: Carma Elliot, CMG OBE, Director of The British Council China.
"Empowering women, wherever they are in the world, is a moral and social issue. We know through work done by UNESCO, that gender equality is crucial for reducing poverty. Empowered women contribute to the health and productivity of whole families and communities and they improve prospects for the next generation."
Carma contacted the Education and Employers charity in June 2015 following an article about its Inspiring Women Campaign on Mumsnet, the UK's largest online network for parents. Mumnet also featured the charity's 'redraw the balance'  two min film showing the reality of gender stereotyping in primary schools which helped the clip go viral with over 28 million views including a version with subtitles in Mandarin: https://www.youtube.com/watch?v=q7tWQlv26kk
Critical economic challenge
According to the Global Gender Gap Report 2015, women around the world are still less likely to participate in the labour force than men, and women are more likely to work in poor quality jobs. As of 2015, about 50% of all women aged 15-plus are in the labour force, compared to 77% of men.
The McKinsey Global Institute estimates that fully closing the employment gap between men and women could boost annual GDP by 26% over current forecasts. However, according to UN figures, globally women occupy only 25% of senior management positions. Women are underrepresented on corporate boards and executive committees in Europe and the United States, and even more so in Asia.
In the UK, Inspiring Women has recruited more than 22,000 women from all fields of work who volunteer in schools, talking to girls about the job they do, their career path and their life experiences. The aim is to break down gender stereotypes, provide role models and expose girls to careers they may not otherwise consider. Operating through the Inspiring the Future online match-making system, hundreds of thousands of British girls and young women have engaged with Inspiring Women volunteers.
Watch a short clip about Inspiring Women China:
No limit on girls' ambition
Speaking at the launch event was Secretary of State for Health Jeremy Hunt, who is also the Chair of UK-China High Level People to People Dialogue. He said: "I am delighted that Inspiring Women, which is doing amazing things in the UK, is now being taken being launched by the British Council in China."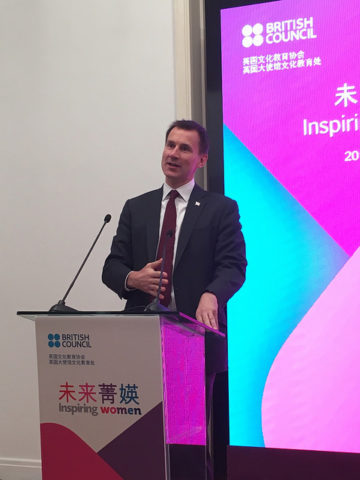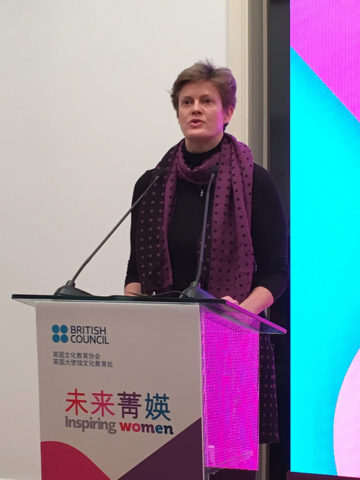 Pictured above: Jeremy Hunt MP, Chair of UK-China High Level People to People Dialogue and Secretary of State for Health, and Her Majesty's Ambassador to China, Dame Barbara Woodward DCMG OBE, speaking at the launch.
Secretary for State for Education, Justine Greening also sent a message of support for the launch. She said: "Every girl should be able to grow up knowing there is no limit on their ambitions. I'm proud of the progress that we have made so far in the UK and the expansion of Inspiring Women to other countries is an exciting development."
Jennifer Taylor, Chief Operating Officer, EMEA at Bank of America Merrill Lynch said: "We are extremely proud of our association with the Inspiring Women campaign which already provides such valuable counsel to young women across the UK. The programme's international expansion to China is very exciting as it will give even more young women the opportunity to gain a better understanding of the vast array of career options available to them."
"It is through programmes such as this that Education and Employers are making great strides in helping to break barriers for women to enter particular industries. Ultimately, these efforts will improve workplace diversity which is essential in today's modern business world. I hope that companies across China will sign up to Inspiring Women so that together, we can all help young women around the world, to realise their potential, take charge of their futures and become tomorrow's leaders."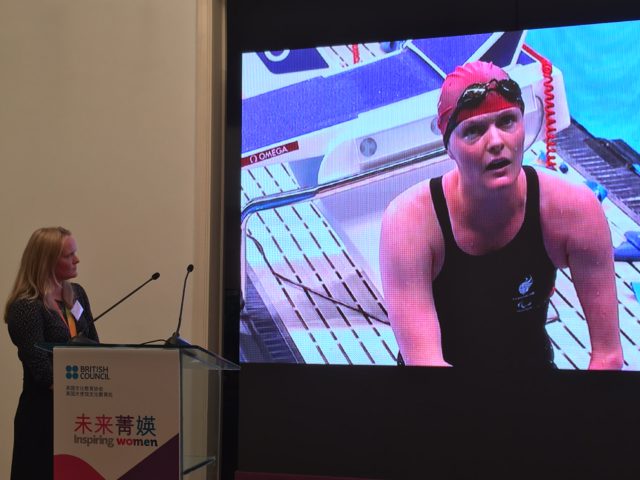 Pictured above: Paralympic gold medalist Susie Rodgers speaking at the launch.
Andreas Schleicher, Director of Education at the OECD said: "The Inspiring Women campaign does an important job. By making it easy for women from a wide range of occupations to go into schools, the campaign helps broaden the career aspirations, and build the ambition, of girls and young women. I am delighted to see that Inspiring Women is now being rolled out in China – it is going to make a big difference to the lives of girls in China."
Both Inspiring the Future and Inspiring Women have also attracted serious interest from organisations in countries as diverse as Australia, Bangladesh, Ghana, Ireland, Japan, the Netherlands, South Korea, Uganda, the United States and the United Arab Emirates – and we are currently partnering with organisations in a number of these countries.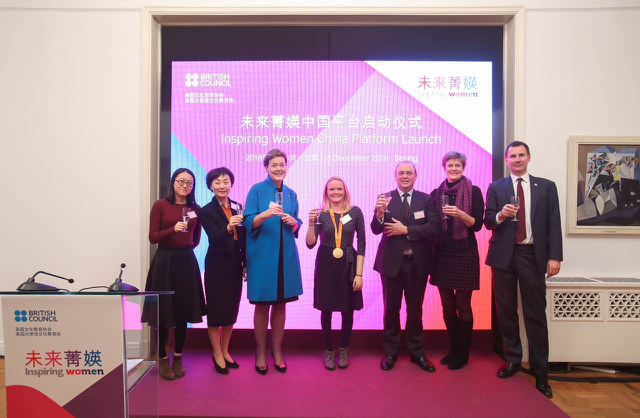 Speaking at the launch of Inspiring Women were (left to right): Ma Feng, a graduate supported by Educating Girls of Rural China; Ching Tien, founder of Educating Girls of Rural China; Carma Elliott CMG OBE, Director of British Council China; Susie Rodgers, Rio Paralympics gold medal winner; Nick Chambers, CEO of Education and Employers, Her Majesty's Ambassador to China, Dame Barbara Woodward DCMG OBE and Jeremy Hunt MP, Chair of UK-China High Level People to People Dialogue and Secretary of State for Health
To see photos from the launch visit our Flickr album.
To see details of this in Mandarin follow this link http://www.britishcouncil.cn/inspiring-women-china
To see details in English follow this link https://www.britishcouncil.cn/en/inspiring-women-china