The Inspiring Women campaign teamed up with Sotheby's to show girls in state schools and colleges the range of careers available in the sector. Over 50 girls aged 13 – 18 had the opportunity to meet 11 women doing different roles, and ask questions about their jobs and career experiences. The event took place at the iconic London HQ of Sotheby's, one of the world's leading fine art auctioneers.
Women continue to make an outstanding contribution to the arts sector in a varied range of roles, including artist, gallery director, finance manager, art history expert, and many more. Today's event encouraged girls to aim high and fulfil their potential, and introduced them to an exciting and inspirational range of career options.
Helena Newman, Chair of Sotheby's Europe, gave a welcome speech outlining the amazing range of job opportunities in the arts sector. Katie Derham, Inspiring Women Ambassador, spoke of her own career journey and stressed the importance of making the most of all opportunities.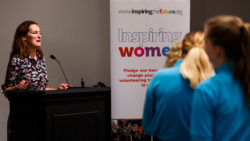 (Helena Newman. Photo credit to Sotheby's).
Helena Newman said:
'The art world is a great place for women!', as well as that 'a career in the arts is for you, if you love looking.'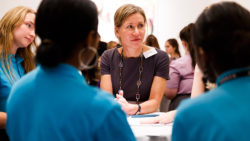 (Kerstin Mogull. Photo credit to Sotheby's).
Kerstin Mogull, Managing Director, Tate, said:
'It is crucial that we inspire young women who are thinking of making careers in the arts. The cultural sector is vital to the future of the UK and the central role of women will shape its ongoing success.'
When asked why she wanted to get involved in the event, Kerstin said:
'I think it's massively important to inspire young girls, to help them and get them involved in the arts broadly speaking not visual arts but arts more generally. It's a very good organisation I would say.'
Commenting on whether it is still difficult for women to get into these roles, Kerstin added:
'I think it is and in particular I also think it's hard – an organisation like Tate we have quite a good mix, it's 65, 75% woman but the top jobs still tend to be occupied by men and that's what we need to break through.'
Kerstin believed the most memorable piece of advice she gave to the girls was:
'It's about following your passion. If you like art, you don't have to be an artist to get involved – you can be in finance or in HR or in Marketing but go into a sector that you really care about and then once you're there you have that strong interest or passion and you'll find the right role.'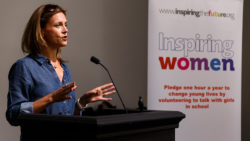 (Katie Derham. Photo credit to Sotheby's).
Katie Derham, Broadcaster and Inspiring Women ambassador, said:
'I've been involved with the Inspiring Women campaign for a couple of years now purely from personal experience of being a 15 or 16-year-old and not knowing what jobs were out there. Careers advice back in the day certainly wasn't amazing unless you wanted to be an accountant or a doctor. I just want to make sure all these girls aim high and know what is out there in these interesting worlds such as art and music and the creative of the world because a lot of them think that if they're not an artist they can't work in the art world and that's just not true. And I just want to help bang the drum for that and make sure they have choices.'
Katie also commented:
'I think it's definitely improving. The work this organisation does sending people with real jobs into schools saying "this is what I do", you might never have heard of an auctioneer before, you might not know what they actually do and that it's ok for women to do it as well which is still an issue because I think gender stereotyping begins at a very young age and a lot of girls think I can't do x or can't do y because I'm a girl. I think the more access to women in different and interesting careers the better as they will know what they can aim for.'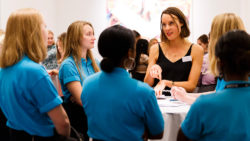 (Frances Quinn. photo credit to Sotheby's).
Frances Quinn, Graphic Designer, Baker and author said:
'I just think it's so important to be inspiring young people. I remember when I was at school there were so many different avenues that you could go down and I think for women in the creative arts it's a little bit difficult to try and navigate which is the right route. So if I can help, inform and inspire the girls here today then that will be a good thing.'
Frances' key piece of advice for the girls is:
'I think that there's not necessarily one plain route to do down. From my side, I was a designer before going on the Great British Bake Off and now I'm combining the two together. I did a lot of internships when I was at university as much to find out what I didn't want to do as what I did want to do. I think it's more difficult unless you're going for a career like a doctor where it's more clear cut. You have to try and navigate your way around.'
The following women took part:
Behroz Mewawalla, Design Director at Sotheby's Diamonds.
Eileen Cooper, Artist and Keeper of the Royal Academy Schools.
Selina Fisher, Assistant Gallery Manager, Sotheby's.
Maxine Fox, Senior Specialist in French and Continental Furniture, Sotheby's.
Cynthia Harris, Head of Decorative Arts, specialising in Silver, Sotheby's.
Frances Quinn, Graphic Designer and Author.
Kerstin Mogull, Managing Director, Tate.
Sally Shaw, Director, Firstsite Gallery.
Andrea Sullivan, Head of Environment, Social and Governance in the Community Engagement Department of the Bank of America Merrill Lynch.
Clare Walton, Deputy Director, Business for Marketing, Sotheby's.
Karen Young, Associate General Counsel, Sotheby's.
To see more photos from the event on the Sotheby's website click here: http://www.sothebys.com/content/sothebys/en/news-video/slideshows/2016/inspiring-a-new-generation.html#slideshow/2016.inspiring-a-new-generation/1
To read more about the women who have supported the Inspiring Women campaign click here: http://www.inspiringthefuture.org/about-inspiringwomen/
For more information about the Inspiring Women campaign please contact Gabriella Oakley on gabriella.oakley@educationandemployers.org or 07703734840.