Coinciding with the World Economic Forum taking place this week, today 25th May 2022, the OECD have launched a new report entitled Meet the Future: How employers gain from helping young people get career ready. The report looks at how employers benefit by engaging with schools and young people. It builds on substantial work, done over many years, looking at the benefits for young people of engaging with the world of work.
OECD PISA international data shows that few students have opportunities to connect regularly with employers whilst at school. By engaging directly with employers while still in school, students gain first-hand insights into the world of work, which helps them become more employable. Some career guidance activities cited in the report as making a difference include: job fairs, workplace visits, job shadowing and career talks. The report was written by Dr Anthony Mann, Senior Policy Analyst at the OECD and former Director of Research at Education and Employers. It features Inspiring the Future as an exemplar programme of connecting employers and schools in an easy and effective way.
In a piece written specially for the report, CEO of Education and Employers, Nick Chambers, outlines the background and rationale, how the technology works, the impact it is having, and how other countries are successfully replicating the model.

The launch of the report took place at Addey and Stanhope School in Lewisham, South East London. Taking part were the OECD's Director of Education and Skills, Andreas Schleicher, and a range of volunteers from the world of work.
The event began by illustrating the report's message with a career speed networking session where groups of young people had the chance to speak to volunteers about their jobs and careers. Volunteers included: Frank Bowley, Head of the Unit for Future Skills for the Department for Education; Anna Frazer, Head of Business Partnerships at Careers and Enterprise Company; Gaia Marcus, Head of Engagement – Civil Service Reform for the Cabinet Office; Arturo Trujillo, Lead Analyst Developer at BP; Molly McParland, Strategic Projects Lead at Home Made, a property-tech startup and Alexandra Ingvarsson, Global Philanthropy, EMEA, J.P. Morgan.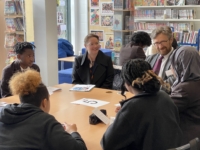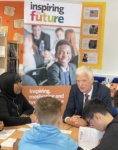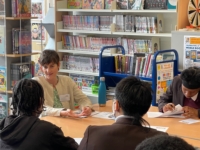 After the career speed networking session Andreas Schleicher presented the findings of the report, which was followed by a panel discussion with Jan Shapiro, Head Teacher of Addey and Stanhope School and Hang Ho, Head of Philanthropy, International Markets, at J. P. Morgan. The presentation and panel discussion were recorded and are available to watch via YouTube.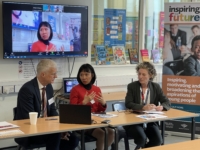 A special thank you to Jake Armstrong, Careers Leader at Addey and Stanhope, for his help in hosting today's event. 
Read the full Meeting the Future report and watch this short video about the report.