An evaluation and impact research report published today shows how meeting a diverse range of role models from the world of work has helped to raise children's aspirations, broaden their horizons, increase their motivation and helped foster a more positive attitude towards learning.
The report evaluates the impact of the 'Our Future' project in its third year, where over 9,000 children from 52 primary schools in Derbyshire and Nottinghamshire have benefitted from 131 supported career-related learning activities. The project was funded by Derby Opportunity Area and run by the Education and Employers charity in partnership with Learn by Design and dmh associates. Our Future supported teachers to connect with volunteers, including those from the Primary Futures online platform, who helped bring curriculum learning to life and show children that what they are learning now is relevant in the future.
"This project helped transform our school curriculum and the way we think about leadership and project-based learning in the classroom. Earlier our Ofsted rating was not good, we adopted this approach and involved everyone in the school, parents and employers/volunteers. We are so grateful to the team for their support." (Head, Landau Forte Academy Moorhead)  
"Children can now name a wider variety of careers and know that stereotypes should not matter when thinking of a career." (Classroom teacher, Zaytouna Primary School)
Key Findings
Impact on aspirations and broadening horizons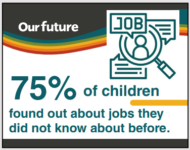 An increase from 62% to 74% of children agreed with the statement 'I can do any job I want when I grow up'.

An increase from 71% to 83% of those agreeing with the statement 'There are lots of different jobs for me when I grow up'.

76% children said they felt inspired and excited after hearing adults talk about their jobs.

96% of parents think it is important for their children to understand the link between what they learn at school to the world of work.
Improvement in key skills
Children's self-assessment of their skills post-CRL activity shows an increase across all 9 key skills. This was also confirmed through teacher and headteacher feedback.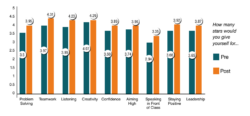 Tackling gender stereotyping
92% of pupils agree 'Girls and boys can do the same job'.

92% of teachers agreed that the career-related learning activities delivered have addressed the issue of gender equality.

82% of parents agree that it is important to tackle gender stereotyping from an early age.
"I didn't know that I could do any job I wanted. I thought some jobs were just for men and some were just for women!" (KS2 pupil) 
Impact on the teachers
100% of teacher respondents to our survey indicated the programme had a positive effect on the children and 95% stated their expectations had been exceeded or met.
"We have been really glad to be a part of the project this year and we have felt that the experiences have been really positive and beneficial for the children. We would definitely want to take part in any future projects that arise. Thank you for your support this year, we hope to work with you again soon." (Teacher, Cherry Tree Hill Primary) 
Impact on volunteers
Volunteers stated that projects such as Our Future make volunteering easy.
Teacher feedback and legacy
The project has left a positive legacy and provides robust evidence of the impact of career-related learning in primary schools. 
"Our Future is building interpersonal skills such as problem-solving, teamwork, communication. Also, considering future careers that may have not otherwise been considered." (Deputy head, Southwold Primary School) 
"We now understand that there is so much more to these jobs than we previously thought, and we are surprised that you don't always need to go to university to begin these careers." (Victoria Primary School)
Read the executive summary and full report.