Over 7,500 primary aged children from across New Zealand have taken part in Drawing the Future. They have been drawing pictures of the jobs they aspire to and indicating how they have heard about these jobs.
Education Minister Chris Hipkins visited one of the schools taking part – the Porirua East School to meet the children and hear about their hopes and aspirations for the future.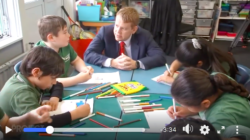 The national survey has been organised by the New Zealand Tertiary Education Commission/Te Amorangi Mātauranga Matua. The Tertiary Education Commission (TEC) is the Government's Crown Agency, which provides career services from education to employment across New Zealand.
The response by the children in New Zealand is astonishing. Given the size of the population of New Zealand compared to that of the UK, eight times as many children have taken part.
The Commission is working with Education and Employers on the survey as well as rolling out Primary Futures/ Inspiring the Future across the country.
http://www.careers.govt.nz/drawing-the-future
The original Drawing the Future survey was done in 2018.  Thirteen thousand children took part from the UK in the survey and 7,000 from 19 other countries.
Key findings included:
Gender stereotyping about jobs is set from a young age and it is a global issue
The patterns of jobs chosen by seven-years-old are similar to those selected by 17-years old
Family, TV, radio and film have the biggest influence on children's choices
There is a need for greater access to career role models from a young age
Children's career aspirations have little in common with projected workforce needs, which could have serious economic implications
Children in some developing countries often aspire to more professional jobs than those in some affluent countries.
The full report and findings can be found here: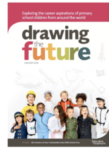 The Tertiary Education Commission has also produced a short film showing the New Zealand version of 'What's my line?' with a wonderful introduction from the students.
Earlier this year, the former Prime Minister of New Zealand and the first head of the United Nations Development Programme  – the Rt Helen Clark took part in the launch of a new report by the OECD and Education and Employers during the World Economic Forum at Davos.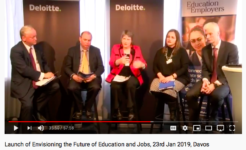 Free Resources for primary schools
If you are a primary school looking to do Drawing the Future, we have produced a free resource pack for you. Simply register at www.primaryfutures.org