To coincide with the 150th anniversary of the Elementary Education Act, the first piece of legislation to deal specifically with the provision of education in Britain (receiving Royal Assent on the 9th August 1870) we are publishing this paper by Prof. Prue Huddleston.
Since our launch in 2009 the Education and Employers Charity has sought to understand what difference employer engagement in education makes to young people and the economy. This paper which examines the history of employer engagement in education fills a large void in knowledge in this area. Prue is Emeritus Professor at the University of Warwick, and formerly Director of the Centre for Education and Industry at the University. She is a Research Associate at Education and Employers and an editorial board member of the Journal of Vocational Education and Training. She has written extensively on vocational education and qualifications, and work-related learning.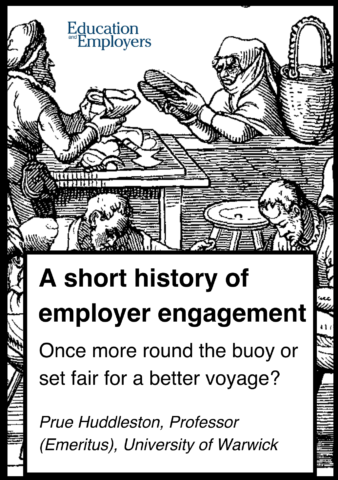 Cover image: Shoemakers. Credit: Jost Amman, Das Ständebuch, 1568, in Paul Lacroix – Manners, Custom and Dress During the Middle Ages and During the Renaissance Period, 2004, available freely at Project Gutenberg. Public Domain. 
It begins with a brief look at the early origins of employer engagement starting with the first apprenticeships in 1497 and then considers in more detail the various approaches and initiatives in recent decades. The aim is to encourage debate around the progress and purposes of employer engagement with the education sector. It does so by charting the history of such endeavours, examines their intent, and their efficacy. It is inevitable that in attempting to chart such a fluid, and often ill-defined, field there will be omissions and differences of view and for this reason we are keen to invite further contributions and comments. We also encourage reflection on what, if anything, we can learn from past endeavours to engage employers with the education system to curtail what Prue characterises as "trips around the buoy" and how such lessons might inform future action.
Today interactions with the world of work are widely regarded as being vitally important for all young people. What makes such interactions so special is that they draw upon resources and experiences linked to the world of work which cannot be easily replicated in the classroom. It offers young people something new and different from what they can normally expect – and authenticity. Authentic encounters are ones which ring true for a young person, providing insights which are hard to dismiss.
The research we have done over the last ten years has shown that interactions with the world of work help to broaden young people's horizons, raise their aspirations and challenge stereotypical views they often have about the jobs people do based on their gender, ethnicity and social background. They help increase motivation to learn, improve attainment, reduce the risks of their becoming NEET and lead to an increase in earnings. They help inform young people about the full range of jobs as well as the career routes into them and in so doing reduce the mismatch between young people's career aspirations and the reality of the labour market. For more details click here.
Please do get in touch if you would like to comment, share your knowledge and help contribute to our collective understanding of the history of employment engagement in education in the UK and internationally.
And finally a very big thanks to Prue – little did she realise when I suggested she might write a short article how much work would be involved. I hope you enjoy reading it as much as I have done.
Nick Chambers
CEO
Education and Employers
6th August 2020