By Mona Mourshed, Marc Krawitz, and Emma Dorn (all McKinsey & Company)
In this, the first of a series of reports by researchers writing for McKinsey & Company, the authors explain how they have applied advanced analytics and machine to identify factors that play a critical role in student achievement. Using data from the OECD's Program for International Student Assessment (PISA) the reports take a data-driven approach to consider a few of the most active debates: Do mindsets matter? If so, to what extent? What teaching practices work best? Does technology help? after controlling for all other factors, the analysis shows that student mindsets are twice as predictive of students' PISA scores than even their home environment and demographics.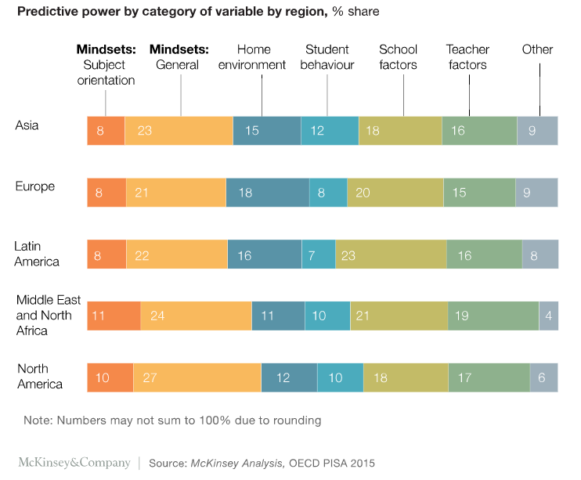 The authors also find that students who receive a blend of teacher-directed and inquiry-based instruction have the best outcomes. There are two dominant types of teaching practices. The first is "teacher-directed instruction," in which the teacher explains and demonstrates ideas, considers questions, and leads classroom discussions. The second is "inquiry-based teaching," in which students are given a more prominent role in their own learning—for example, by developing their own hypotheses and experiments.
Read the full report.