By Dr Elnaz Kashefpakdel, Christian Percy and Jordan Rehill
The report was launched at an event in central London on the 6th June 2019. Watch Dr Elnaz Kashefpakdel (Head of Research, Education and Employers) discuss the findings, as well as keynote speeches from Geoff Barton (ASCL) and Adrian Lyons (Ofsted).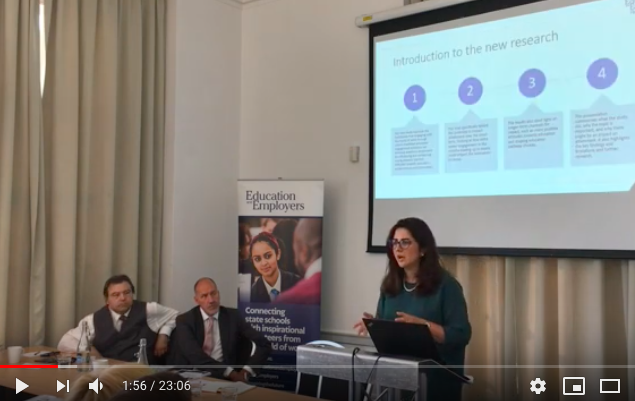 The Australian Council for Education Research have produced an infograph based on the research, you can access it here.
Sign up to our mailing list to keep up to date with future publications.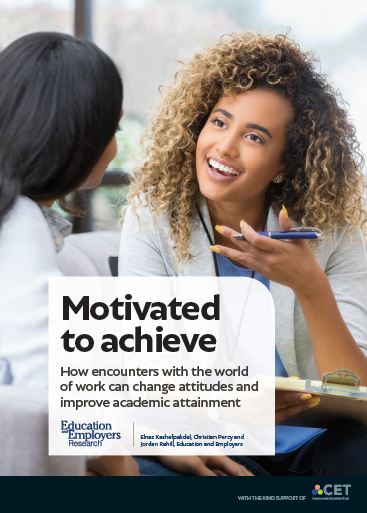 For the first time in England, using a robust methodological approach (Randomised Control Trial) links have been demonstrated between young people's engagement with the world of work through career talks and their GCSE attainment.
This new research, entitled 'Motivated to achieve' shows that participation in career talks with volunteers from the world of work can change the attitudes of Key Stage 4 (14-16 years old) pupils to their education.  This can influence their future plans and subject choices, motivate them to study harder and supports an improvement in academic attainment – even when taking place only a few months before their exams start.  It showed, for the first time, that lower achievers and less engaged learners responded best to the intervention.  This is particularly pertinent for schools facing funding challenges and considering where best to allocate their finite time and resources.
The findings of the report have been covered in articles by BBC News 'Careers lessons push up GCSEs', Forbes 'Experience Of Work Boosts Student Motivation And Grades' and by Tes 'Careers talks 'boost GCSE results'.
Key Findings
This research revealed that changes in young people's attitude and motivation contributed  towards improvements in attainment.
A) Changes in Student attitudes
Students who took part in the three extra careers talks showed improvements relative to the control group with respect to their:
Self-efficacy (confidence in their own abilities)
Attitudes about the usefulness of school
Confidence in fulfilling their career aspirations
As the result of the three encounters young people had, 7% of the students changed their future plans while around 20-28% of them questioned their career and education choices
B) Changes in the number of weekly revision hours
Planned weekly revision hours in the lead up to exams is used as a proxy for how seriously students are taking the process and their "motivation to study harder"
The analysis shows that there is a positive and statistically significant relationship between taking part in three extra career talks and motivation to study harder. Students in the intervention group reported on average a 9% higher increase in their weekly revision hours than peers in the control group, linked indirectly to GCSE attainment via a separate analysis showing the importance of revision hours for GCSE attainment.
C) GCSE results
At the beginning of the study the GCSE predictions for all young people in the study were collected and compared with their actual grades, so that we could measure students' outperformance.
The analysis reveals an indicative, direct link between the career talks and students' outperforming their predicted grades, the equivalent of one student in a class of 25 beating their predictions by one grade as a result of the careers talks (controlling for gender and free school meals).
There appears to be differences between the three subjects – the effect on English was more than double the average effect.
While the effects are modest and would need further exploration as part of a larger trial, this is an important finding, especially given the small costs involved in putting on three careers talks.
D) Who benefits the most?
The sub-sample analysis shows that lower achievers and less engaged learners responded best to the intervention.
Within the intervention group who received three extra career talks, those who were initially more sceptical of the value of the education reported a greater increase in motivation to study harder. For instance, students predicted a borderline pass in English GCSE reported a 32% increase in planned weekly revision hours after the test, whereas those predicted high grades from 6 to 9 only reported a 10% increase.
More is more! The impact of the extra career talks was larger for young people who had previously attended more short-duration career activities (such as career talks or career fairs). Such students were more likely to outperform their predicted grades and reported a higher level of motivation to study harder, the equivalent of an extra 20% in planned hours if they had done four such short-duration activities before the three organised for the study.
Methodology
A Randomised Control Trial (RCT) approach was employed, in which schools divided young people across tutor groups into an intervention group and a control group.
The study draws upon data from approximately 650 students in their GCSE year across five schools across England.  The intervention group consisted of 307 pupils who received three extra career talks by employee volunteers on top of the usual career activities organised by their school. In the trial, learners were randomly allocated to the two groups, details of their anticipated GCSE results were collected and then comparisons were made between their predicted grades and how well pupils did in their actual exams.
Data was collected from Year 11 students throughout the academic year 2017-18, with a baseline survey at the beginning of Year 11 and another at the end of the year. GCSE results were collected in September 2018 for everyone who participated in the study. Students who participated in the three career talks also filled in a survey afterward to give their feedback on the talks and comment on what, if any, help the talks had been for their choices and attitudes.
Career talks were from volunteers from the world of work who had been previously briefed to highlight connections between educational achievement and employment opportunities.
The Rt Hon Damian Hinds MP, Secretary State for Education said: "A chance to experience the world of work first hand can play a huge part in helping young people develop the skills and personal qualities they need for workplaces, as well as showing them how the subjects they are learning at school are relevant in later life.
This report underlines the value of good careers education which builds confidence, broadens horizons and fuels ambition. Good careers education must be available to as many young people as possible, which is why we're investing in careers education and why I fully support Education and Employers' mission to strengthen the ties between schools and the world of work."
Geoff Barton, General Secretary of ASCL (Association of School and College Leaders) who will be speaking at the June 6th launch said "Careers talks are a great way of showing young people how their learning in the classroom links to the world of work, so we're not surprised to hear that this excellent programme has a positive impact on GCSE results. It's fantastic that so many volunteers are willing to give up their time to come into schools to talk to pupils about their career journeys."
Dr Elnaz Kashefphkdel, Head of Research at Education and Employers charity said, "This latest report, builds on ten years of our research. Our previous findings have demonstrated the positive impact of connecting young people to the world of work, especially for those from disadvantaged backgrounds.  This report shows that short interactions with volunteers from the world of work can have a powerful impact on attainment.  And more significantly, that the low achievers and less engaged learners have the most to gain in improving their academic attainment.   
Adrian Lyons, Her Majesty's Inspector, National Lead for Economics, Business and Enterprise said "Careers is given a high profile in the new Ofsted inspection framework taking effect from September 2019.  Inspectors will judge whether the school is providing an effective careers programme in line with the government's statutory guidance on careers advice that offers pupils: unbiased careers advice, experience of work, and contact with employers to encourage pupils to aspire, make good choices and understand what they need to do to reach and succeed in the careers to which they aspire.
A demonstrable impact on pupils' academic success resulting from employer engagement has been sought since at least Lord Young's review of enterprise education in 2014.  The work of Education and Employers in providing research-based evidence to establish this link is therefore very welcome"'
Nick Chambers, CEO of the charity highlighted how simple and free it is to facilitate these interactions.  "There are nearly 50,000 volunteers from all sectors – architects to zoologists and all levels –  apprentices to CEOs available to talk to young people about their job and career route. Schools can access these directly via the free on-line match making service Inspiring the Future."
Download 'Motivated to Achieve'
This report was completed with the kind support of: