Through an extensive pupil testimony and teacher experience claim, the Starting Early report reveals that career-related learning can help children broaden their horizons, overcome stereotypes, and become more motivated in class, and this evidence has been seen in multiple surveys Education and Employers has undertaken since 2014.
Recent research shows that children from as young as five have ingrained stereotypical views about the jobs people do base on their gender, ethnicity, and social background. Most children's career aspirations are based on family, friends, and the media, with less than 1% knowing about a job from someone visiting their school. Aspirations are narrow and out-of-sync with labour market demands. Career aspirations are also surprisingly persistent over time, similar at age 17-18 as among primary school children. Aspirations ultimately only resolve in later harsh entries to the labour market, as supply jarringly adjusts to demand. These narrow, stereotyped views lead to a steep cost in economic prosperity, occupational diversity, and individual career fulfilment.
A history of career-related learning in primary schools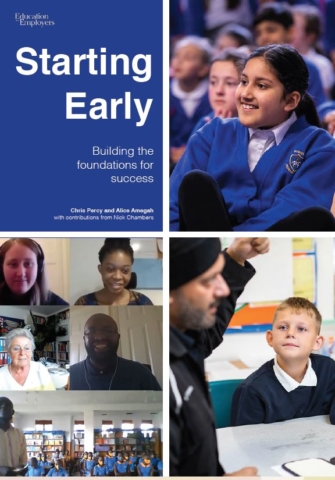 Primary schools have always sought to provide enriching environments for children, introducing them to how society
functions and the different roles available to play in it. Policy support has, however, only traditionally identified career-related learning as a distinct priority in secondary and tertiary education. The last two decades have seen a growing call for greater formalisation and support for the primary schools, drawing on grass-roots practice, experimental suggestions from pathfinder programmes, and recommendations in government-commissioned reports.
Career-related learning in England remains non-statutory at primary age, but there is widespread enthusiasm among schools and teachers for increasing provision. Recent innovations in virtual live and pre-recorded events with interactive activities, prompted by the ongoing pandemic, point a pathway towards low-cost, blended delivery to provide nationwide coverage, unconstrained by the limits of local geography.
Watch a short interview with the author Chris Percy:
Key findings of the research
Gathering ideas of some 1,000 teachers and 10,000 children in England, underpinned by case study insights, qualitative discussions and international evidence, the following key findings are presented in this new report:
After participating in a career-related learning event, 82% of around 9,300 children agreed that "I now understand how learning Maths/English/Science can be useful in many jobs".
Out of some 1,200 children in schools with the most economically disadvantaged students,78% said, "I now know there are lots of jobs available to me when I grow up," and 74% said, "I feel more confident in what I can do after today's activity".
A randomised control trial of primary age enterprise education in the Netherlands shows gains in areas like self-efficacy, persistence, and creativity.
Benefits in areas like career aspirations, attendance, and attainment, particularly for disadvantaged pupils, were identified in an analysis of around 5,000 9-10-year-olds in the UK comparing intervention schools against control group schools.
A survey of almost 10,000 primary children showed that the more career-related learning pupils had done – and the more jobs they had heard about – the more likely they were to have a job they were interested in for the future and the more positive they felt about school subjects.
A series of US studies relate improved career-related learning and counselling with higher grades in standardised tests, with example increases of c. 6% pts in proficiency rates in English and Maths compared to similar schools that did not implement the programme.
Activities in primary schools look different to the career education that may be familiar in secondary schools. The emphasis in primary is on diversity, exploration, and making learning fun. Activities excite children about the subjects they are doing and show them the relevance to their futures.
The question is not whether "career-related learning" should start at the primary age. We already know young children are playing, thinking, and talking about jobs – the experiences, interactions, and questions that drive this behaviour can hardly be prevented even if we wanted to. The question is whether we actively support such learning through the school system. Schools can introduce more diverse experiences to more children, especially those with fewer chance encounters in their day-to-day life, and frame those experiences in positive, constructive ways.