"A key part of the solution to the post-Covid education recovery and challenging stereotypes is giving children access to role models from the world of work who can inspire, motivate and help children see why education is relevant." – Karen Giles, Head Teacher at Barham Primary School
Based on new in-depth research, insights and surveys, Starting Early: Building the foundations for success makes the case for career-related learning in primary schools. This new report provides the evidence behind a low-cost approach that is underexploited in addressing the challenges of ingrained stereotypical views and narrow aspirations of primary aged pupils – and is especially vital during the post-Covid 'recovery curriculum' period.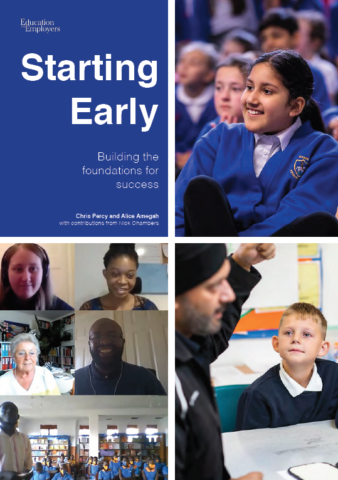 Primary children, who are among those who have missed the biggest proportion of their schooling during the pandemic, can be motivated and inspired through live, interactive virtual events where they meet and question a diverse range of working people across the UK from electrical engineers to Antarctic explorers.
Starting Early shows that the potential of career-related learning in primary schools is far greater than today's practice. We can give children access to role models from the world of work and empower teachers to connect directly with employer volunteers to organise high-quality career-related learning. These activities reduce stereotypes, enhance confidence, foster a positive attitude towards school, and improve attainment.
Findings from a national pilot and a survey of 10,000 children launched today shows that the Primary Futures programme results in improved motivation for maths, science and English and increases children's future aspirations and desire to learn. The biggest impact has been on children from disadvantaged backgrounds who often don't get access to a diversity of role models. This has been especially the case during lockdown.
Primary schools have always sought to provide enriching environments for children, introducing them to how society functions and the different roles available to play in it. Policy support has, however, only traditionally identified career-related learning as a distinct priority in secondary and tertiary education. The last two decades have seen a growing call for greater formalisation and support for primary schools, drawing on grass-roots practice, experimental suggestions from pathfinder programmes, and recommendations in government-commissioned reports.
The report draws on research from 2014-2021 and explores surveys of over 1,000 teachers and 10,000 children. Findings include:
After participating in a career-related learning event, 82% of around 9,300 children agreed that "I now understand how learning Maths/English/Science can be useful in many jobs".
Following sessions, 84% of children understood that boys and girls can do the same job and 80% now agreed that "people like them" can be successful when they grow up.
Out of some 1,200 children in schools with most economically disadvantaged students, 78% said "I now know there are lots of jobs available to me when I grow up" and 74% said "I feel more confident in what I can do after today's activity".
The importance of early intervention can be seen in the persistence of preferences and stereotypes in career aspirations: sector and status preferences at seven-year olds are often surprisingly similar to those of 18-year olds.
Through its Primary Futures programme, Education and Employers supports teachers to organise events and surveys show this support is often the first time that teachers have engaged employers in a structured way to support learning. Teachers frequently go on to organise their own events, but help getting started is essential.
Some reaction to the report:
"Careers advice should start in primary school and this report highlights how important interaction with employers is from a young age" – Rt. Hon. Robert Halfon MP, Chair of the Commons Education Select Committee.
"For far too long the impact that role models from the world of work can make on the aspirations of primary aged children has been underestimated. I have seen first-hand via the Primary Futures programme and the Careers and Enterprise Primary Fund the difference it can make, helping to motivate and inspire young people. This report provides compelling evidence that we we need to take action now." – Dame Julia Cleverdon DCVO CBE, Chair, National Literacy Trust
"I welcome this report and evidence on the value of children engaging with volunteers from diverse organisations and employers. We are all aware of the importance of primary-age education and now we have evidence to help decide what actions can help inspire children, broadening aspirations beyond narrow stereotypes and motivating them at school." – Wes Streeting MP, Member of Parliament for Ilford North, Shadow Minister for Schools
"From a really early age, kids form stereotypes about what types of jobs are good for boys and what types of jobs are good for girls. We want to help broaden their aspirations… You can't be what you can't see and we need to stop children from ruling out career possibilities because they believe, implicitly or explicitly, that their future career choices are limited by their gender, ethnicity or socio-economic background." – Chris Hipkins, Minister of Education, New Zealand
"Delighted to see this report published today. Our primary children, inspired by role-models from industry, become excited about their future place in society. Primary education is vitally important – when our children get the very best start this places them on an unstoppable path to fulfilment and success. I applaud the quality of this evidence-informed report" – Dame Alison Peacock, CEO of the Chartered College of Teaching
"Now is the time for us to ignite our children's aspirations. We need to help them see what's possible and the opportunities open to them. Primary Futures does that and the NAHT has been a proud supporter from the start. It is truly incredible how much impact this scheme has had." – Paul Whiteman, General Secretary of the National Association of Head Teachers (NAHT)
"Career related learning in primary schools builds awareness of broader career opportunities and strengthens motivation for study. Starting early with career related learning works in building social capital and is an important stage in the overall exposure that children and young people need to the world of work to make informed and ambitious choices." – John Yarham, Deputy CEO, The Careers & Enterprise Company
The report has been featured in the BBC news article Careers and Covid: When the pandemic hit job ambitions.
Research published on 25th March by UCAS highlights the importance of career-related learning at primary with a case study on Primary Futures.
Find out how virtual activities work
Hear about a Head Teacher's experience of virtual:
Watch a clip of a recent virtual activity:
How you can get involved
Volunteers from the world of work are a foundation stone of rich career-related learning in primary, bringing authentic voices, diverse roles, props, and stories that excite children about the future. The challenges that teachers face in trying to connect with large numbers of diverse volunteers and employers alongside busy teaching days, especially volunteers outside their area, mean this is a key area where practice support is needed.
The Primary Futures platform provides such support. It is a sustainable, scalable, cost effective self-serve model in which teachers take the lead on running career-related learning events with a wide range of volunteers from the world of work – people from all levels – apprentices to CEOs; from all sectors – app designers to zoologists and from a wide range of social, economic and ethnic backgrounds. Teachers can recruit volunteers quickly and easily via the state-of-the-art platform and use resources other teachers have helped develop to plan and manage events. Provided annual costs for IT maintenance and user support are covered, teachers and the enthusiasm of volunteers can do the rest.
Primary Futures activities can run in-school or virtually – indeed, the move to a virtual world over the past year has opened-up new learning opportunities for children to meet 'people like them' working in jobs they might never otherwise have known about until they were grown up themselves. This means that a primary aged child living in Blackpool can meet and ask questions of a TV Producer working in visual effects based in London, or children in Cornwall can hear from someone who arranges Antarctica tours based in Scotland as part of their polar regions school topic; and a child at a rural school in Wiltshire can quiz an Experimental Archaeologist in York.
If you'd like to volunteer, get involved here
If you're a school looking for inspiring volunteers from the world of work, start here