We are delighted to announce 'Our Future Derby'.

Launched in partnership with Derby City Council, this exciting new project is made possible with funding from the Department for Education's 'Opportunity Area Programme'.
The aim is to inspire children and connect primary schools in Abbey, Arboretum, Boulton, Chaddesden, Derwent, Normanton, and Sinfin with the world of work.  Research conducted by the charity Education and Employers last year, 'Drawing the Future', showed that children as young as six had already decided what careers they could or could not do in the future.  This was influenced by who they know and what they see on TV, with only 1% having the chance to be inspired by someone visiting their school.
Sign-up to Our Future Derby here 
In addition, the project will spark conversations at a range of events across the city to help broaden horizons, raise aspirations, and open a world of greater possibilities to the children, their families, and their teachers.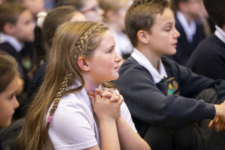 Project delivery partners Learn by Design, East Midlands Chamber, Forum Talent Potential, and dmh associates will join forces with Education and Employers to ensure that children in primary schools receive an inspiring programme of activity until December 2020.  In a first, the project is being closely evaluated to measure impact. The evaluation is being led by Dr Deirdre Hughes OBE, Director of dmh associates, in conjunction with Education and Employers Research.
The project aims to:
Open children's eyes to their future possibilities
Enable teachers to link classroom learning for children with their future opportunities through bespoke CPD sessions
Engage local employers to widen children's horizons
Work with parents to raise their children's aspirations
Develop children's employability skills
"The launch of Our Future Derby marks a significant milestone in inspiring children to see the relevance of schooling to the world of work from an early age.  What makes this initiative special is the planting of seeds of hope.  Children, parents, teachers, and employers working together in local communities to gain a better understanding of the changing world of work.  Research shows children's aspirations are often shaped, moulded, and restricted by gender stereotyping, socio-economic background, and the people they meet in their local area.  We will be examining what works and what needs more to be done to improve children's life chances for a successful future."
– Dr Deirdre Hughes OBE, Director of dmh associates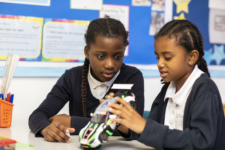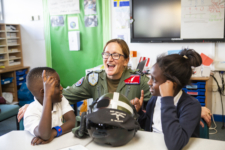 Related research:
What works? – Career-related learning in primary schools by Dr Elnaz Kashefpakdel, Jordan Rehill, and Dr Deirdre Hughes OBE (2018)
Career-related learning in primary – The role of primary teachers and schools in preparing children for the future by Dr Elnaz Kashefpakdel, Jordan Rehill, and Dr Deirdre Hughes OBE (2019)
Drawing the Future – Exploring the career aspirations of primary school children from around the world by Nick Chambers, Dr Elnaz Kashefpakdel, Jordan Rehill, and Christian Percy (2018)