A major new report has been published which examines the career aspirations of 7-13 year olds in New Zealand. The research format and methodology is based on Drawing the Future which charity Education and Employers and its partners TES Global, the NAHT, OECD Education and Skills, and UCL Institute of Education published during the World Economic Forum in January 2018.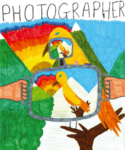 The Drawing the Future survey asked children aged 7-11 to draw a picture of the job they wanted to do when they grew up and indicate how they heard about it. Some 13,000 children took part in the UK and 7,000 from 19 other countries. New Zealand didn't take part in the original survey and were keen not just to replicate it but to develop the scope.
Children aged 7 to 13 from every primary, intermediate and composite school across New Zealand were invited to take part and some 7,700 children did – an amazing response considering the relative populations of New Zealand and the UK. It was carried by the New Zealand Tertiary Education Commission/Te Amorangi Mātauranga Matua which is responsible for all careers provision in the country.
The report, 'Drawing the Future: Exploring the career aspirations of New Zealand children', was formally launched at Parliament by the New Zealand's Education Minister, Chris Hipkins.
To download the report click here
It found that the career aspirations of young people across the country are set from a young age and with a large percentage of children aspiring to the similar types of jobs.
The pictures drawn ranged from astronauts to zookeepers, but more than half of the drawings were of just nine jobs.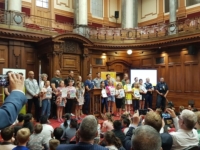 The survey, the first of its type conducted in New Zealand, found clear patterns of bias along ethnic, gender and socio-economic lines which limit children's horizons and aspirations. And there are marked differences between the jobs girls and boys aspire to with 10 times more girls than boys wanting to become teachers and 4 times more boys than girls aspiring to become engineers (civil, mechanical or electrical). These findings matter because the aspirations can predict, and limit, study and career choices later on.
As with the United Kingdom, children are inspired by those around them, but the likelihood of young people hearing about future jobs from volunteers from the world of work going into schools remains remote. One in three New Zealand children heard about the job they aspire to through a family member. Whilst less than 1% cite a volunteer coming to their school – something they are determined to change.
Table 1: New Zealand children's top 5 jobs overall
| | | |
| --- | --- | --- |
| Rank | Jobjo | Proportion wanting this job |
| 1 | Sportsperson | 17.6% |
| 2 | Vet | 6.3% |
| 3 | Police officer | 5.3% |
| 4 | Teacher/Lecturer | 4.9% |
| 5 | Social media/YouTuber/Influencer | 4.7% |
Aspirations by gender
The aspirations of boys and girls are starting to diverge at this young age and while both aspire to be a sportsperson, boys are twice as likely to aspire to that as girls. The second choice for girls is a vet, while boys aspire to having a job in social media.
Table 2: Top 5 jobs for girls and boys
Girls
Boys
Rank
Job
Proportion
Rank
Job
Proportion
1
Sportsperson
11.7%
1
Sportsperson
23.5%
2
Vet
11.1%
2
Social media/YouTuber/Influencer
7.4%
3
Teacher/Lecturer
8.9%
3
Police officer
6.6%
4
Artist/Illustrator
6.5%
4
Builder
4.6%
5
Police officer
4.1%
5
Army/Navy/Airforce/Firefighter
4.5%
Compared to girls, New Zealand boys are approximately:
nine times more likely to want to be a trade worker (e.g. builder, plumber, welder)
five times more likely to aspire to become a firefighter or defence force worker
four times more likely to aspire to be an engineer (civil, mechanical or electrical)
two times more likely to want to be a sportsperson
two times more likely to aspire to a job in the primary industries (eg farmer, fisherperson, hunter, miner).
Compared to boys, New Zealand girls are approximately:
fourteen times more likely to aspire to become a beauty industry worker (eg, beauty therapist, make-up artist, hairdresser or barber)
ten times more likely to want to be a teacher or lecturer
eight times more likely to aspire to an occupation in the health, community and social services sector (including being two times more likely to want to be a nurse or health visitor)
two and a half times more likely to aspire to work in the arts (eg, actress, cartoonist, dancer, photographer, singer, musician)
one and a half times more likely to aspire to a science, engineering and mathematics (STEM)-related career and
twice as likely to aspire to a professional career
Disconnected
The findings from New Zealand show that, as with the UK, there is a disconnect between the aspirations of the young and the jobs available. Over half of the children surveyed aspire to a professional career, but only a quarter of the workforce are expected to be in a professional career by 2028. Fewer children aspire to jobs in clerical, sales, operating machinery and labouring than there are predicted to be jobs available.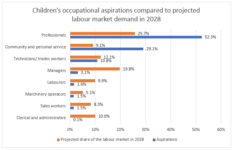 Our recent Disconnected report examined many of the same issues in the UK.
Meaningful encounters with role models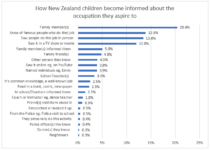 Mostly, children aspire to jobs they hear about from someone in that profession, and from their family with over a third becoming aware of a job from someone in that role meaning some children have an advantage based on their family and social networks.
Motivation
Pleasingly at this young age children aspire to jobs they think they would enjoy and that would help others.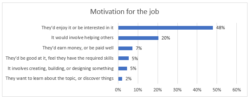 Similarities to the UK
The results have striking similarities to the findings from the UK report. In the UK 36 per cent of children base their career aspirations on people they know, 37% in New Zealand. In each case under 1% were influenced by a volunteer visiting their school. The top five jobs in each case are largely the same, though in a different order
| | | |
| --- | --- | --- |
| Rank | New Zealand | UK |
| 1 | Sportsperson | Sportsperson |
| 2 | Vet | Teacher |
| 3 | Police officer | Vet |
| 4 | Teacher/lecturer | Social media/gamer |
| 5 | Social media/YouTuber/Influencer | Police officer |
The report was welcomed by representative of New Zealand business, education and the careers profession:
Kirk Hope: Chief Executive, BusinessNZ (equivalent to the CBI) said: "understanding that less than 1% of the children have had an in-school visitor from a career that they aspire to sends an important signal to the education and business sectors – there is a lot of work to be done."
Robyn Bailey and Lynette Reid: Career Development Association of New Zealand said: "No-one can choose what they don't know, adults included."
Whetu Cormick, teacher, principal and former president of New Zealand Principals' Federation said: "This research supports the rationale for the implementation of Inspiring the Future in primary schools. It clarifies the influences of gender and the power of early perceptions on the later career choices of our young people."
Call to Action
As with the original Drawing the Future report, the findings of 'Drawing the Future: Exploring the career aspirations of New Zealand children' shine a light on the need for people to visit schools to talk with young people about their jobs – helping to raise aspirations and broaden horizons and challenge ingrained streotypes.
Education and Employers is delighted to be working with the New Zealand who will be rolling Inspire the Future across the country later this year. If you are based in New Zealand and would like to volunteer there see. Inspiring the Future New Zealand
And if you would like to volunteer in the UK just click here.