Today, the House of Commons Education Committee published a report following its inquiry into the quality of careers education, information, advice and guidance (CEIAG) delivered in schools in England. After giving oral evidence on the importance of career-related learning in primary schools at an inquiry session earlier in the year, Education and Employers are pleased to see the report highlight this as one of its key findings.  
Education and Employers have been researching and working with teachers on starting early with career-related learning since 2014 when Primary Futures was launched. Primary Futures is a programme developed in partnership with NAHT to address the need to expand primary-aged children's understanding of the jobs they can aspire to by meeting diverse role models from the world of work.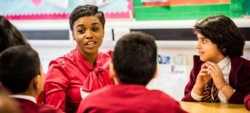 Paul Whiteman, NAHT general secretary, says of the programme: 
"Primary Futures works with schools to broaden horizons, challenge stereotyping – for example, by gender, ethnicity and social background – and bring learning to life from an early age. It provides primary-aged children the chance to meet people beyond their immediate family networks. People who can help challenge the stereotypical views that can often limit children's ambitions and life choices. This has been transformational for many children and has a very positive role to play in raising aspiration, tackling harmful stereotypes and creating a real affinity for education with children from the most disadvantaged backgrounds.  
The success of the programme owes much to the involvement of primary heads and teachers over the years, developing something that meets their and their children's needs backed up by robust research". 
In 2023, Primary Futures now has over 7,000 primary schools signed up across the country, all keen to enrich pupil learning and help children see future possibilities they might never have imagined otherwise.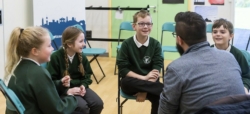 Interested in finding out more about the impact of career-related learning in primary school?
Check out the video summary of our Starting Early report below.