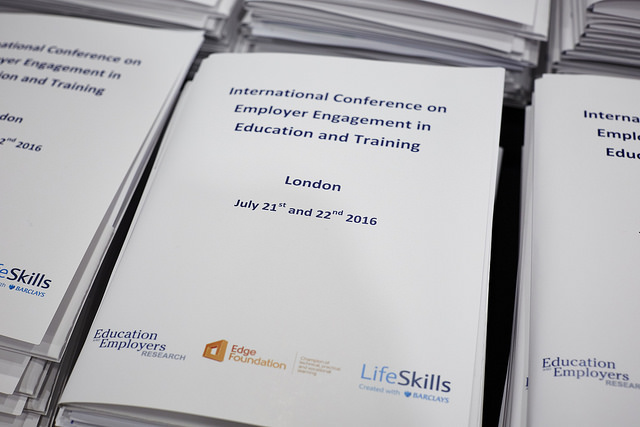 View the full picture library from the conference here.
July 21 and 22 2016 saw the coming together of key thinkers from around the globe for the International Conference on Employer Engagement in Education and Training. The conference, jointly hosted by Education and Employers and the Edge Foundation, aimed to present accessible research to be harnessed within policy circles and used practically. The conference was also supported by the UK Department for Education, Department for Business, Energy and Industrial Strategy and Barclays LifeSkills.
Academics and scholars were joined by influential practitioners and policy makers to discuss ideals of best practice for delivering equitable, efficient and effective employer engagement strategies. Some 300 guests from more than twenty countries attended over both days at the Department for Business, Energy and Industrial Strategy conference centre.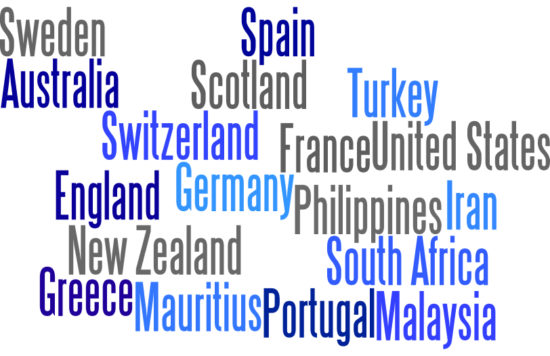 The conference, in particular, sought contributions on the importance of employer engagement within school-to-work transitions, educational performance and as a mechanism for addressing skills mismatch and development.
The conference programme over both days was packed with sessions seeking to provide solutions to problems and ask more questions to optimise progression from education into employment.  As well as leading academics, speakers included senior representatives from the Department for Education, Organisation for Economic Co-operation and Development, International Labor Organisation, National Association of Head Teachers, Education and Employers Research, Careers and Enterprise Company, Inter-American Development Bank, Asian Development Bank and CEDEFOP – the European Centre for the Development of Vocational Training.
In all, one hundred speakers converged, from over 40 different organisations, to present highly interesting and relevant research for the audience – the abstracts for all sessions are available here.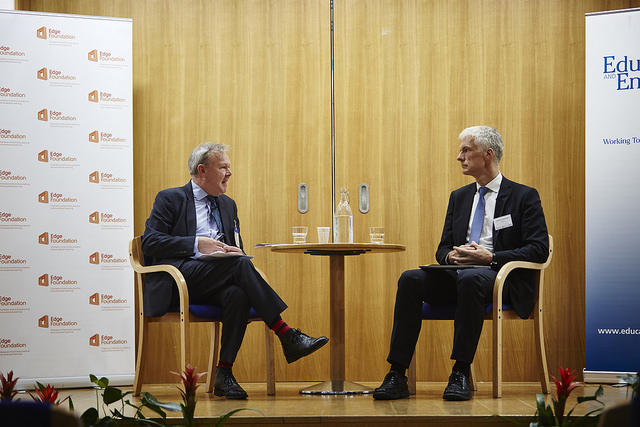 Sean Coughlan (BBC) and Andreas Schleicher (OECD). View the full picture library here.
Simon Field opened the conference with his paper Between Two Worlds: Education and Work. Based on his extensive working experience with the OECD, he set out three major challenges in bridging the gap between education and employment: culture, institutions and economics. Watch his presentation here.
Sean Coughlan, education correspondent from the BBC, later interviewed Andreas Schleicher, Education Director at the OECD, in an 'Ask Andreas' session. Andreas laid out his own firmly held views on the importance of employer engagement in education in a wide ranging discussion. Watch a short video of Andreas discussing his opinions on how best to bring employment into the field of education here.
Department for Education Minister Lord Nash discussed the importance of school governance when considering employer engagement in education. Watch his talk here.
Lord Nash. View the full picture library here.
The conference was closed by Bob Schwartz from Harvard Graduate School of Education, who offered a practical solution to some of these questions operating in the US – the Pathways to Prosperity programme. Watch Bob's full presentation here and a shorter summary of the programme here.
A key session saw the launch of a new international literature review on the impact of careers education (including work-related learning) primarily authored by Deirdre Hughes (University of Warwick) and Anthony Mann (Education and Employers). The review collated high-quality studies pertaining to careers education based upon robust methodologies, finding evidence of largely positive educational and economic outcomes for young people. Read our summary and download the report here.  The report was commissioned by the Education Endowment Foundation and Bank of America Merrill Lynch. The Education and Employers research team also presented emerging findings from work commissioned by the Commercial Education Trust, which analysed longitudinal data to offer new teenage indicators of adult economic success.  Watch Anthony Mann present findings here:
Other papers being presented included:
Links to all of the presentations are available here. Find out more about all of the speakers here.
Videos of the presentations are available here.
Please note: Only a selected number of our sessions were recorded. All video will be available on the conference website by the end of August 2016.
Previous conference works contributed to the edited collection Understanding Employer Engagement in Education.
Value and support for the conference has been kindly recognised within blog posts: Edge, Secondary CEAIG, LEKAF and PDMS. Furthermore, our twitter hashtag #EEinETconf generated much traction during the conference with over 400 tweets and mentions. View the live feed and please follow us: @Edu_Employers and @ukEdge.
Thank you for all who attended the event and contributed to its massive success!
Keep in touch with Education and Employers Research for future events and seminars by signing up to our research e-bulletin.