Edited by Anthony Mann, Prue Huddleston and Elnaz Kashefpakdel (Published August 2018)
The book is available to purchase via Routledge, and Amazon.
Summaries of the following chapters are now available online:
Chapter 5: Socialised social capital?  The capacity of schools to use careers provision to compensate for social capital deficiencies among teenagers. By Anthony Mann, Elnaz Kashefpakdel and Christian Percy
Chapter 14: Insiders or outsiders, who do you trust? Engaging employers in school-based career activities. By Christian Percy and Elnaz Kashefpakdel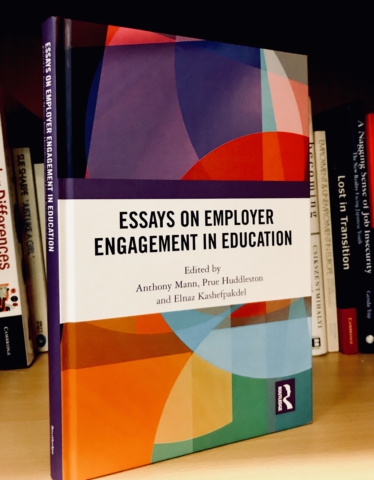 Education now needs to prepare students for more rapid change than ever before, to learn for jobs that have not been created, to tackle societal challenges that we can't yet imagine, and to use technologies that have not yet been invented. This is a tall order for educational institutions, but it can get so much easier and become so much more effective if educational institutions work hand in hand with employers who are at the centre of the economic transformations.
Building on new theories about the meaning of employability in the twenty-first century and the power of social and cultural capital in enabling access to economic opportunities, Essays on Employer Engagement in Education considers how employer engagement is delivered and explores the employment and attainment outcomes linked to participation.
Introducing international policy, research and conceptual approaches, contributors to the volume illustrate the role of employer engagement within schooling and the life courses of young people. The book considers employer engagement within economic and educational contexts and its delivery and impact from a global perspective. The work explores strategic approaches to the engagement of employers in education and concludes with a discussion of the implications for policy, practice and future research.
Featuring contributions from Dr Louise Archer (Aspires, UCL Institute of Education), Dr Michael Tomlinson (University of Southampton), Dr Nancy Hoffman (Harvard Graduate School of Education) and other esteemed colleagues from around the world, this collection of essays analyses how employers are uniquely placed to provide a distinctive and valuable contribution to the schooling of young people.  Employers and their employees, indeed anyone who engages in the world of work, brings with them privileged information about the realities of modern employment and how the knowledge and skills cultivated in our schools are actually deployed in workplaces. Such information is critical to young people as they reflect on who they might become and how they might seek to achieve their emerging aspirations. Many in the economic community, moreover, can offer young people the opportunity to test out what they have learnt in the classroom in real workplaces. It is the authenticity of the workplace experience which underlies its influence.  By exposing students to multiple, real-life situations and people, powerful new opportunities for learning emerge.
This work follows the first Routledge collection Understanding Employer Engagement in Education, published in 2014. Which was, at the time, the first collection of research essays with a dedicated focus on the subject and it represented a coming together of thinking which centred on the role of the employer (and employee, indeed any member of the economic community) as a means of making theoretical and practical sense of a range of activities which had long been undertaken in schools in the U.K. and overseas.
Reports, chapter summaries and other research papers, by Education and Employers and other organisations, can be found in our free searchable research library. 
Reviews
"This useful book examines how employers do, and could, engage with education providers to help all young people transition successfully to full-time work. The book provides food for thought for practitioners in schools, careers services and within companies, and for policy makers. Its particular strength is in the empirical research reported, especially the frequent use of young people's voices, increasing our understanding of how young people imagine their employment futures and how they can get there."
Erica Smith, Professor of Vocational Education and Training, Federation University Australia.
"This new collection presents new and timely evidence on how workplace involvement can influence the economic and academic outcomes of young people. The editors are leading experts in their field who have curated a collection that advances thinking on employer engagement in education, what it can mean to young people and how schools can deploy it to greatest strategic advantage. At a time of frenetic policymaking on school-to-work routes, and on national and global economic directions and the role of education and training within this, this book makes an important contribution."
Becky Francis, Director, UCL Institute of Education.