On the 22nd January 2020 during the World Economic Forum the OECD launched a report at Davos Platz Secondary School on the career aspirations of 500,000 15 year olds from 41 countries. The Dream Jobs? report showed that the huge changes that have taken place in the world of work over the past two decades have made little impact on teenagers' career expectations.
See report and related slides: 'Dream Jobs? Teenagers' Career Aspirations and the Future of Work'
47% of boys and 53 % of girls expect to work in one of just 10 popular jobs by age of 30. Traditional 20th century and even 19th century occupations such as doctors, teachers, veterinarians, business managers, engineers and police officers continue to capture the imaginations of young people as they did nearly 20 years ago, before the era of social media and the acceleration of technologies such as artificial intelligence in the workplace.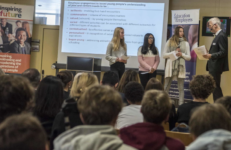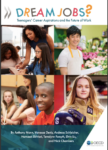 To see photos of the launch and letters from the young people of Davos please click here
Launching the report Andreas Schleicher, the OECD's Director of Education and Skills said: "It is a concern that more young people than before appear to be picking their dream job from a small list of the most popular, traditional occupations, like teachers, lawyers or business managers. The surveys show that too many teenagers are ignoring or are unaware of new types of jobs that are emerging, particularly as a result of digitalisation. The analysis suggests that, in many countries, young people's career aspirations increasingly bear little relation to actual labour market demand."
The report also featured the voices of young people from the Education and Employers' Your Voice Survey  and an article from the charity's CEO Nick Chambers on Employer Engagement in Education.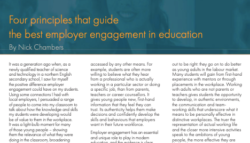 Panel discussion
As part of the launch Deloitte very kindly hosted a Livestream panel discussion hosted by Michele Parmelee, Deloitte's Global Chief People and Purpose Officer. The panel comprised of Global Shaper, Brittany Singh Williams, the OECD's director of Education and Skills, Andreas Schleicher and Education and Employers' CEO, Nick Chambers.
Andreas gave a short summary of the Report's findings which was followed by panel discussion which can  be viewed here:
Picture: Michele Parmelee, Nick Chambers, Brittany Singh Williams and Andreas Schleicher
Immediately following the launch and livestream panel discussion a range of delegates from the World Economic Forum went into classrooms to talk with 13-15 year-old students about their jobs and careers.