In 2018 Education and Employers published Drawing the Future which examined the career aspirations of primary-aged children. Over 20,000 7-11 year-olds from 20 countries took part, drawing a picture of the job they want to do when they grew up and saying who or what inspired them. The aim of the study, done in partnership with the OECD, UCL Institute of Education, NAHT and tes, was to gain a better understanding of the factors influencing children's future aspirations. 
Following the report's publication, the New Zealand Government decided to do a detailed countrywide study using the same methodology. It found clear patterns of bias along ethnic, gender and socio-economic lines which limit children's horizons and aspirations and marked differences between the jobs girls and boys aspire – 10 times more girls than boys wanting to become teachers and 4 times more boys than girls aspiring to become engineers (civil, mechanical or electrical). The report which was launched by  New Zealand's Education Minister (now Prime Minister), Chris Hipkins can be found here. 
Education and Employers are also supporting schools in Uganda where in 2018 Primary Futures Uganda was launched. Peter Ssenkusu, Principal of Maria Assumpta Nursery and Primary School in Uganda, was keen to use the approach to find out more about his pupils' future aspirations.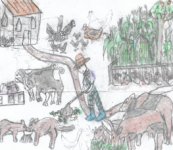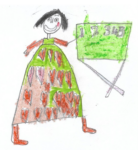 After conducting a Drawing the Future case study with his pupils aged 4 – 11, Peter found a clear gender bias, particularly in aspirations related to healthcare, with more boys aspiring to become doctors and more girls aspiring to become nurses. There was also a significant mismatch between pupils' aspirations and future labour market needs. The children's aspirations are largely based and limited to their immediate environment. It highlights the need to give children the chance to a wide range of role models, they will have greater awareness of what they can achieve in the future. 
Read the Maria Assumpta Nursery and Primary School case study in full.