Primary-aged children in British Columbia were able to chat to volunteers from the world of work thanks to a pioneering project run by the charity Education and Employers. Commissioned by the Ministry of Education and Childcare, British Columbia pupils in Grades K-8 (ages 4-14 years) were given the opportunity to take part in a range of aspiration-raising activities.  
Based on our Primary Futures programme the aim was to: 
Expose K-8 students to different career options

 

Broaden their horizon of possibilities

Create links between learning and career development

Bring learning to life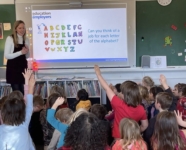 The project came about as a result of the keen interest the Ministry and educators across British Columbia have shown in Education and Employers' extensive research into career-related learning, including the 'Starting Early' report and 'Drawing the Future' study, as well as international work undertaken by the charity in countries such as New Zealand, Australia and Uganda. 
As part of the project, Education and Employers demonstrated their best practice approach to career-related learning and delivered three in-person activities with children across three schools in British Columbia. Children were introduced to exciting careers through meeting volunteers such as a pilot, a video game designer, a construction worker in renewable energy and a volunteer from the Ocean Networks Canada.  
Alongside delivering in-person activities, the Charity also organised virtual activities for selected schools across the province, inviting volunteers to speak remotely to children who might not otherwise have the chance to meet such a diverse range of role models. This included an interactive virtual activity, available to all project schools across British Columbia, which was attended by over 800 children and volunteers including a Millwright, a Marine Service Technician and an Engineer from Amazon.   
Alongside delivery of the pupil activities, educators were invited to attend two training sessions focusing on developing their understanding of this area of work.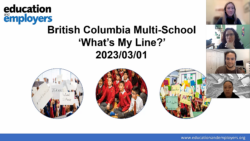 Students and educators fed back positively about the activities: 
96% of students agreed they knew more about jobs available to them in the future

98% of students agreed with the statement 'I know that doing well at school can help me in the future', demonstrating that activities have helped show students the importance of what they are learning in school

83% of educators rated the project as 'high impact' on students

100% of educators felt confident in organising future activities to help children explore their career options moving forward
Whilst in British Columbia, Education and Employers were delighted to visit Frank Hobbs Elementary School to see a 'Guess My Job'' activity where children tried to work out the jobs four volunteers from the world of work did. The children asked the volunteers questions to which they could only give yes or no answers. For example – Do you work use maths in your job? Do you have to travel? Do you work in a team? The volunteers then left the school hall and children were asked to guess their jobs before returning with props or in uniform to reveal what they did. The aim was to challenge ingrained stereotypes children sometimes have and inspire them to consider the opportunities available to them.  
The activity is based on Primary Futures' signature 'What's My Line?' activity and was organised by Bonnie Alexander, District Career Coordinator for SD61 – Greater Victoria. Bonnie's wider careers programme was inspired by a keynote speech that Nick Chambers, the CEO of Education and Employers, gave at the Career Educators Conference in Vancouver by invitation of the Industry Training Authority in 2018.
See Bonnie's 'Guess My Job' event in action by watching the video below. 
In 2019 Bonnie recreated our 'Redraw the Balance' video with children in Grade 3. They were asked to draw a picture of a Police Officer, Olympic Athlete and an Electrician. Of the picture drawn 45 were drawn as men and 11 were drawn as women. Watch here.
To ensure the project's legacy, the Education and Employers team have developed a range of instructional resources available for educators to use to help embed career-related learning in the British Colombian curriculum. The guides will support educators with planning, leading, and reflecting on live encounters with professionals from the world of work to raise children's aspirations and develop core competencies. 
If you are interested in finding out more about the project or the wider work of Education and Employers, please contact us on: info@educationandemployers.org