In the second of a new collaborative seminar series, Education and Employers and the UCL Institute of Education (IOE) invited colleagues to discuss two recent papers that provide insights into careers education policy and practice and its relation to employer engagement in education.
The seminar began with Christian Percy (Senior Advisor at Education and Employers) who provided an overview of the careers landscape in England. His introduction outlined the recent criticisms of CEIAG as well as recent government responses aimed at improving CEIAG provision.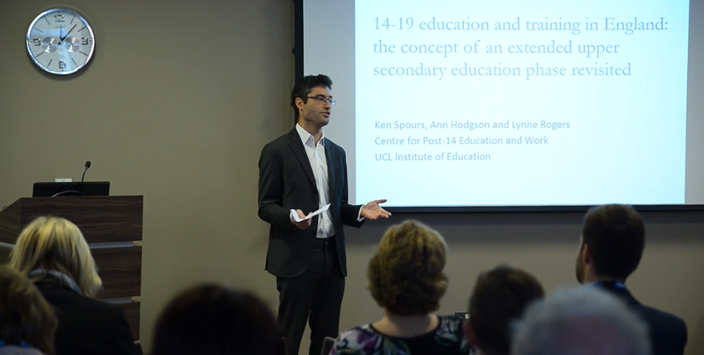 Christian Percy, Chair (Senior Advisor, Education and Employers)
Dr Lynne Rogers (Director, Centre for Post-14 Education and Work, UCL Institute of Education) began the discussion by offering an overview of the concept of an extended upper secondary education phase. The paper examines the rationale for the idea of a 'long' or 'extended' upper secondary phase that lasts from the age of 14 to the age of 19, making a distinction between 14–19 curricular conceptions and 14–19 institutional arrangements. In reflecting on both system and learner perspectives the paper highlights the strengths of the 'extended' approach while also noting some of the obstacles that stand in the way of its realization. The paper highlights, in particular, the recent moves towards a more 'tracked' approach to upper secondary education with a bias towards theoretical learning that does nothing to address the lower status of vocational qualifications. The finding suggest that while there are benefits to choice and specialization, the difference in status between academic and vocational learning and the competition that exists between 14–19 education providers work to the detriment of impartial advice and guidance for young people and their parents/carers. In this context there are clear winners and losers, with some learners (the higher attainers) able to make choices that lead to clear progression outcomes, while others are limited by their attainment at 16. Dr Rogers concluded by suggesting that gradually moving towards a 14–19 curriculum model in which all students have time to progress to their full potential within a more transparent, unified and universal upper secondary education system is the most productive way forward for the future.
Dr Lynne Rogers (UCL Institute of Education)
Download Lynne's slides 14-19 presentation Oct 2017
Access the full report here.
Dr Elnaz T. Kashefpakdel (Head of Research, Education and Employers) then presented the findings from a new Education and Employers study, kindly supported by the Commercial Education Trust. The study aims to harness insights from UK longitudinal datasets to provide school practitioners with a new tool to help careers professionals and other school teaching staff identify and prioritise pupils who require greater levels of careers provision as they approach key decision making points. In doing this, it aims to be comprehensive – relevant to students at all attainment levels – by making use of longitudinal data which compares students of similar characteristics (for example, socio-economic background, geographical area, attainment levels) to identify which factors which make a difference to economic outcomes (earnings and employment) in later life. Importantly, the study identifies attitudes and experiences (described as 'indicators') which schools can influence in order to better prepare their young people for adult working life. The approach adopted is primarily designed to allow schools to identify students requiring greater levels of support to help them become well prepared.
Based on these 'indicators' the research team at Education and Employers devised a short questionnaire of 13 questions split between four sections. Each section was designed to be scored and evaluated individually, as each related to a different area that a young person needs to consider when preparing for the working world. It was intended that this would allow schools staff to come to an overall view on the preparedness of a young person and to identify particular areas where a student may need more targeted guidance. For example, where a young person needs to attend more career talks.
Dr Elnaz T. Kashefpakdel (Education and Employers)
Download Elnaz's slide Indicators of successful transitions V03
Read the full report and download the questionnaire here.
To stay in touch with future seminars, follow us on Twitter and/or subscribe to our free monthly e-bulletin.