To coincide with the first day of the World Economic Forum 2022, a number of participants, including Hilde Schwab, took time out of their busy schedules to visit a school in Davos and talk to primary-aged children. Hilde Schwab is the Chairperson and Co-founder of the Schwab Foundation for Social Entrepreneurship with her husband, Klaus Schwab, the Founder and Executive Chairman of WEF.   
This is the fourth year running that the Education and Employers charity has arranged for young people in Davos to meet and chat with participants attending the annual WEF meeting. These events have enabled primary and secondary aged students to chat with an incredible range of inspiring and influential professionals and to find out about jobs they may not have heard of before. It is also a brilliant opportunity for participants attending WEF to meet the young people of Davos, to hear their ambitions for the future and what they think about the issues being discussed at the Forum.
Joining Hilde Schwab was fellow board member, Pascale Bruderer, Entrepreneur and former Politician, and social entrepreneurs Kyle Zimmer, Co-founder of First Book, an organisation that provides books to children who have no or difficult access to books; and Dr Christoph Grobbel, Co-founder, Director and Chief Financial Officer of South Pole, a carbon finance consultancy committed to sustainability. Also taking part were Michele Mischler, Head of Swiss Public Affairs and Open Forum, World Economic Forum; Jennifer Wu, Advisor Scantrust; and Ines Follador-Breitenmoser, Director of the Cazis Tignez Prison.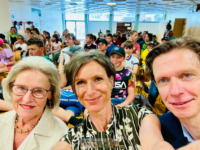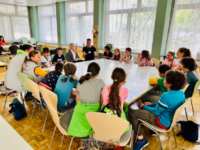 Watch a video from the event below.
The pupils taking part in the session were aged 10-13 from the Unterschnitter – the five village schools in the Davos region. They had all travelled into the centre for the event which took place at the secondary school, Volksschule Davos, with some travelling 10 to 15 miles from their village school in the mountains.
The event began with Martin Flütsch, Head of the Davos Schools, welcoming and introducing the guests. The children then showed the guests their drawings of what they would like to be when they grow up. Many of the pictures reflected the children's immediate surroundings, with a number of the children aspiring to become farmers, carpenters and ice hockey players.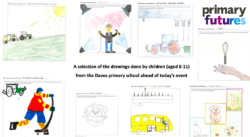 The charity, Education and Employers, first asked children to draw pictures of what they wanted to be as part of their Drawing the Future study, which was published in January 2018 in Davos. 20,000 children from 19 countries took part in the study, which revealed gender stereotyping starts at a young age and is a global issue. Further research has shown that the career aspirations of 7 year olds are not that different to those of 17 year olds and that both have little in common with labour market needs.
After showcasing their drawings, the young people in Davos had the opportunity to speak in groups with each of the guests and ask them questions about their jobs and what skills they use in their work.
The event was organised by Education and Employers in partnership with Swiss charity MOD-ELLE  and the Davos schools. Many thanks to all the guests that took part and to Martin Flütsch, Head of Davos schools, and Hans Follador, Head of Unterschnitter schools and their staff.
This is the second event Education and Employers have organised in Davos this year. In January, when WEF usually takes place, students from the secondary school participated in a virtual Inspiring the Future session, where they met with and heard about the career journeys of a diverse range of volunteers from the world of work, which included:
Kate West MBE, Pilot, EasyJet Pilot

 

Michele Mischler,

Head, Swiss Public Affairs and Open Forum, World Economic Forum

Will Butler-Adams OBE, CEO, Brompton Bicycles

Karine Langlois, Communications Officer, International Maritime Organisation

 
Watch this short clip to hear more about the exciting session. 
See more about our previous events in the Davos schools during World Economic Forum: