The world of work in 2017 is defined by change: new types of working (in the 'gig' economy of zero hour contract work and portfolio careers); rapid automation (ranging from the proliferation of self-service machines in supermarkets to self-driving cars); and, extended with people starting paid employment later and working longer into old age.
February 3 2016 saw the coming together of policy officials and other stakeholders from across the worlds of education and work interested in the implications of such labour market change for schools and colleges. The symposium organised by Education and Employers in collaboration with the Department for Education and the Careers and Enterprise Company reflected on the changing character of school to work transitions and debated the consequences of profound structural change for policy and practice. This event was invitation only due to limited places.
Professor Hugh Lauder (University of Bath) opened the symposium by outlining the macro trends in the youth labour market, looking specifically at what has changed for today's youth and what can be done to allow them to prosper in what is an increasingly uncertain world. He highlighted the growing disconnect between human capital accumulation and returns in the labour market. Human capital theory predicts that the more educated workers are, the more productive they are and hence their incomes will rise. However due to the growing mismatch between labour market demand and skills flow complicated by unpredictable patterns of automation, many well qualified individuals have seen their earnings flat line. To respond to this trend Professor Lauder argued for a new conception of the relationships between the labour market and educational provision.
View his slides here.
Dr Anthony Mann (Education and Employers) then presented findings from a collaborative project with Professor Prue Huddleston (University of Warwick). The presentation drew on a recent article in the British Journal of Guidance and Counselling and interviews with eight leading international commentators on structural labour market change (including the OECD's Andreas Schleicher, and Professors Lorna Unwin, Ewart Keep, Chris Husbands and Hugh Lauder) and findings from four focus groups with UK recruiters. Locating the work in evidence of growing employer discrimination against youth, the paper explored the detrimental consequences to young people of structural changes in the UK labour market and addressed three trends of specific interest to educators:
(1) Complexity: The increasing complexity of the labour market has required
greater levels of more authentic careers provision.
(2) Competition: School to work transitions have become more fractured with young people needing to leave education with greater levels of recruitment skills and resilience to compete for employment.
(3) Workplace Change: A rapidly growing number of jobs demanding not just knowledge itself, but its effective application in new situations, drawing on skills often delivered by schools as enterprise education.
Slides are downloadable here.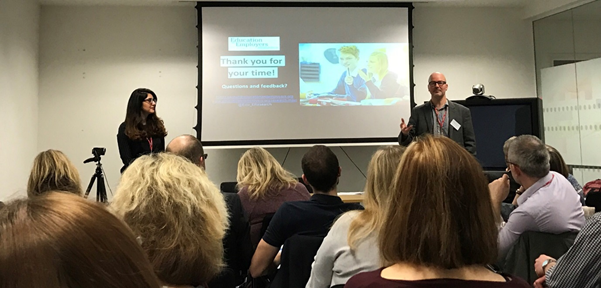 Dr Elnaz T. Kashefpakdel and Dr Anthony Mann (both Education and Employers)
Findings from the recent Education and Employers publication Contemporary transitions: Young Britons reflect on life after secondary school and college were then presented by Dr Elnaz T. Kashefpakdel (Education and Employers). The paper presented findings from a survey of 1,744 young British adults aged 19-24.  The survey undertaken on behalf of Education and Employers by YouGov investigates the experiences of respondents as they engage in transitions which take them from education towards the working world.  The focus of the report is on work related activities commonly undertaken by schools and colleges to help prepare them for such transitions, relating specifically to employer engagement in education. Through the use of statistical analysis, insights for policy and practice emerge.  Greater volume of school-mediated employer engagement is associated with better economic outcomes, demonstrating relationships between the number of school-mediated teenage engagements with employers recalled by young adults and significantly reduced incidence of being NEET and higher earnings.  More highly regarded employer engagement is associated with the best economic outcomes. Access to school-mediated employer engagement is not fairly distributed. Arguably those with greatest need for employer engagement within education commonly received it least.  Young adults who had experienced the greatest volume of school-mediated employer engagement activities came, on average, from more privileged backgrounds: from Independent schools, grammar schools, holding higher levels of qualification.
Find the slides here.
Professor Michael Tomlinson (University of Southampton) discussed the challenges facing graduates when transitioning from education to paid employment. He offered insights on what is a complex and often elusive social and economic problem, looking at the political and economic context surrounding notions of employability. His presentation emphasised the difference between long-term employability and employment. Specifically, he advocated a move away from a narrow conception of employability defined by human capital and dominance of the 'employability-as-skills' discourse and to instead begin using a wider range of capitals as a theoretical framework to understand and provide practical guidance for student development. Using insights gained from a number of employers the presentation ended by giving a number of practical applications for this guidance;
Articulating experience: Young people must build experiences and be able to understand and articulate their significance when targeting employment.
Future planning: Young people must think proactively about themselves as a future employee and engage in early career formation, they must also be anticipative of likely transitional and early career challenges and to start working through strategies to negotiate these.
The full slides are available here.
Head of Research at the Careers and Enterprise Company, Professor Tristram Hooley, then asked what makes for effective careers provision? As well as giving a comprehensive overview of the structural and policy context surrounding careers provision the presentation offered guidelines about what makes good career guidance. Using evidence from the Gatsby Charitable Foundation and reflecting the character of structural economic change, he advocated a move towards lifelong careers guidance which is not only reactive in learning from career and labour market information but also recognises the diversity of individuals and their needs through active engagement with employers and further and higher educational institutions. The presentation closed by emphasising the pressing need for more robust evaluation and analysis into career guidance interventions to explore their optimum timing, duration and mode of delivery.
Tristram's slides are available here.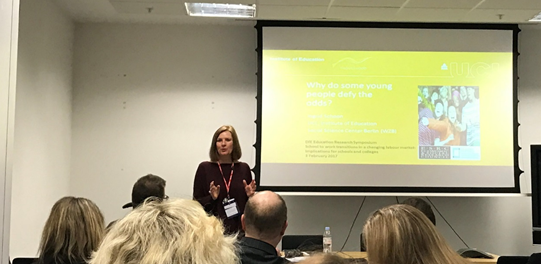 Professor Ingrid Schoon (UCL, Institute of Education)
The conference was closed by Professor Ingrid Schoon (UCL, Institute of Education), who presented her findings on why some young people 'beat the odds' and achieve positive outcomes in their transition to adulthood despite the experience of considerable adversity. The paper used two longitudinal data sets to compare the social risks a young person may have faced (for example, whether a young person lived in social housing, lived in a workless household or was born to a teen parent) to their current status in Education, Employment or Training at age eighteen. She found that the greater the number of social risks experienced by young people, the higher their likelihood of becoming NEET. Her presentation then looked at the protective factors which enable a young person to show resilience to social risks that they may face. While factors such as senses of individual agency and access to careers provision enable some young people to defy the odds Professor Schoon offered a number of practical implications for schools and colleges to foster autonomy, competence and sense of belonging in young people facing considerable social risks.
View Ingrid's slides here.
Thank you to everyone who attended the symposium and contributed to what was a constructive and lively debate.
Keep in touch with Education and Employers Research for future events and seminars by signing up to our research e-bulletin. To sign up please email Jordan.rehill@educationandemployers.org
Follow us for leading-edge research, free resources, international developments on employer engagement in education https://t.co/Nby8I3dg7e

— Edu_EResearch (@Edu_EResearch) January 18, 2017