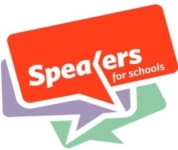 Speakers for Schools, connects schools with leaders in their field or industry who give free talks about topical issues.
Journalist Robert Peston, Political Editor of ITV News approached the Education and Employers Charity in 2010 to help him turn his initial idea for Speakers for Schools into an operational programme. Education and Employer's ran the programme up until 2013, securing a talk by Bill Gates at Deptford Green School and launching in Scotland and Wales.
In January 2013, thanks to the generous support of a philanthropist, Speakers for Schools was able to transition into a  new independent charity.